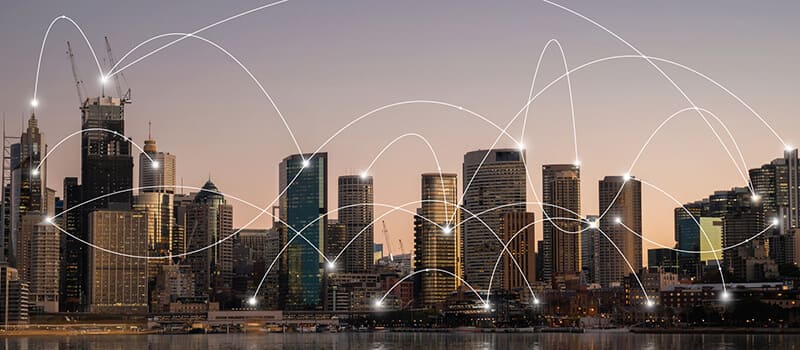 What you need to know about nbn™
The National Broadband Network (nbn) is a national data network project that has been replacing old copper cable networks across Australia with newer infrastructure and technology, with the initial build being completed in 2020. There are five speed plans for the nbn, but your access to any of these is determined by what your internet service provider offers, and the technology used to connect your home to the nbn. If you live in a large city or town, you will probably have access to a fixed line nbn installation, while smaller towns and regional or rural locations might only have access to fixed wireless nbn. Heritage sites and geographical restrictions have resulted in a limited number of sites still not having nbn access or using satellite services to get online.
How to connect to nbn?
Check your address using our handy nbn rollout map which will tell you if your home is nbn ready and the type of technology that would be used to connect you to the nbn. You can also check on areas near you if nbn hasn't quite reached your home yet, to get an idea of when you might be able to benefit from better internet speeds.
Next you can view our nbn plans or build a package online before signing up with Dodo. You can also call us on 13 36 36 to get started. We'll arrange for a technician to visit your home to finalise the installation, which may include having an access device installed. And we'll send you a pre-configured modem for a once-off fee of $60 when you sign up for any of our month - to - month plans.
If, however, the nbn has not yet reached your address, we can still get you connected using ADSL, and automatically switch you over to the nbn once it becomes available in your area.
What does nbn installation involve?
Fibre to the Premises (FTTP), Fibre to the Curb (FTTC), and Hybrid Fibre-Coaxial (HFC) connections need an access device to be installed at your home, while Fixed Wireless and Sky Muster Satellite Service installations might also require additional equipment to be installed outside your home. This will be confirmed when you sign up for nbn internet, though it might not be necessary if you have previously had the nbn at your address. New installations could take up to 20 days to be completed, and reconnecting or switching to a new internet service provider usually takes no longer than two working days.
What nbn download speeds are available?
Wholesale speed packages currently promoted by the NBN Co include:
Home Basic I - designed for very basic usage with typical busy period speeds of less than 12Mbps.

Home Basic II - designed for households with minimal users online at the same time. Download speeds should reach at least 15Mbps during busy periods.

Home Standard - ideal for high-definition (HD) streaming, playing games online and working from home. Download speeds should reach at least 30Mbps during busy periods.
Home Fast - ideal for 4K video streaming, downloading files and using multiple devices online at the same time. Download speeds should reach at least 60Mbps during busy periods.
Home Superfast - ideal for concurrent 4K video streams, downloading very large files, and using multiple devices at the same time with download speeds up to a theoretical maximum of 250 Mbps
Home Ultrafast - the fastest available NBN speed with download speeds up to a theoretical maximum of 1000 Mbps
It is important to remember that not all of these speeds are offered by all internet service providers, nor are they supported on all types of connection technology used for the nbn. Other factors such as the network setup in your area and the number of people in your household connecting to the internet at the same time will further impact on the typical download speeds you can expect. The typical download speeds listed above are representative of best conditions during peak evening periods.
What are the monthly nbn fees & costs?
Your monthly nbn costs will depend on the package or plan you sign up for, with Dodo currently offering three unlimited data nbn plans:
nbn25 - minimum monthly cost from $65 /month
nbn50 - minimum monthly cost from $75 /month
nbn100 - minimum monthly cost from $85 /month
Note that this minimum monthly cost does not account for early cancellation fees, the cost of phone calls, once-off fees for pre-configured modems nor any Fetch TV bundles you include. In some instances, the NBN Co might charge a once-off connection charge for brand new installations.
Where is nbn available near me?
The bulk of the initial rollout of nbn services has been completed already, and if you live around or in a large town or city in Australia you should be able to access the nbn. Check our nbn rollout map for more clarity, including the ability to see what technology is used for connecting to the nbn near you. Some rural and remote areas might only be able to access the nbn using satellite services.
Do I need a new phone for nbn?
It is unlikely that you will need to replace your home phone when switching to the nbn, with most phones able to plug directly into the modem we supply. With some installations your phone will still use the old copper cable infrastructure. If your phone plugs into the modem it will not work during power outages, which could also affect security and medical alarms you have set up.
What are nbn phone call rates?
Phone calls on nbn plans from Dodo are charged on a pay as you go basis, with the following rates:
Local Calls
25c untimed
National Calls
29c per minute
39c flagfall
Australian Mobile Calls
39c per minute
39c flagfall
13/1300 Calls
44c untimed
You can also purchase call packs from $10 to $20 per month for unlimited local, national, and mobile calls, or 2,000 minutes for international calls to 25 countries.