No lock-in contract award winning nbn plans
Total min cost $50 (When you BYO modem)

Offer ends 14 Dec 2021.

nbn25

25 Mbps typical evening speed*

SD video streaming
Email & web browsing
Online gameplay

Total min cost $60 (When you BYO modem)

Offer ends 14 Dec 2021.

nbn50

50 Mbps typical evening speed*

HD video streaming
Online gameplay
Working & studying from home

Total min cost $70 (When you BYO modem)

Offer ends 14 Dec 2021.

nbn100

92 Mbps typical evening speed*

4K video streaming
Video conferencing
Multiple players gaming online
Plus, we'll chip in $10/mth towards your internet when you add electricity & gas*
1 Plan suitability confirmed once active. Typical evening speed (7pm-11pm). Speed may vary due to various factors and confirmed once connected. Fixed Wireless speeds are slower than fixed connections. See About nbn™ Speeds for more info.
Does your energy provider chip in for your internet?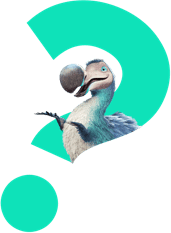 Dodo does.
Get $10/mth discounts on your internet when you add electricity & gas*
Gas not available in SA & QLD. Elec & Gas not available in WA, NT, TAS. $10 discount in VIC + NSW. $5 discount in SA + QLD. Certain areas only.
What's next?
1
We'll find out what's ready to go at your home and then you choose your plan options
2
We'll do all the technical stuff, like setting up an installation appointment and shipping your modem.
3
You'll be all ready to go. And by go, we mean start using the internet to do very important things… like watching Llama videos.
A few more things about nbn™ speed and performance.
During peak times (between 7pm – 11pm) you may experience variations in your speed. This is caused by more people connecting to the internet in your area and a reduced capacity. If you'd like to know what your average speed is during peak times, check your speed tier in the speed descriptions.
in-home wiring
where your modem is located
network capacity and network traffic
the nbn technology type at your home
electrical and Wifi interference from other devices
distance from the nbn node or Fixed Wireless tower
We can help you to maximise your nbn™ performance, just give us a call 13 36 36
What does all this technology mean?
Everything you need to know about connecting to nbn™, all in one place.