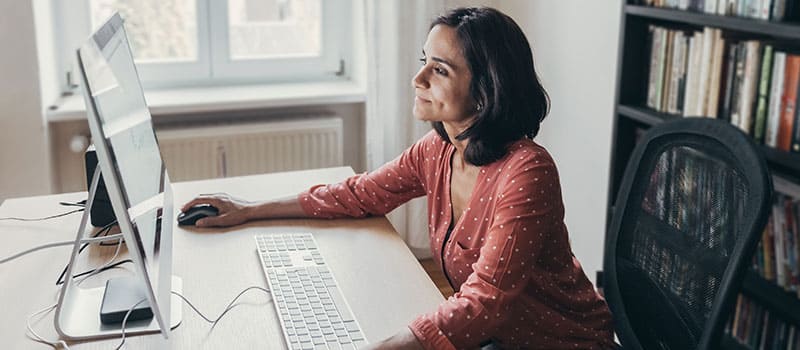 Choosing an nbn™ provider in Canberra
The rollout of nbn in greater Canberra is complete, with most parts of the ACT city covered by fixed line nbn access, from Queanbeyan up to Amaroo. Unless you're already connected to the nbn, it is recommended that you confirm availability by checking your actual address. Only then can you look at nbn providers and plans available to Canberra residents.
If you're still unfamiliar with all the details of the nbn and what you should expect, in this guide we will answer common questions about switching to nbn and choosing a provider. Although NBN Co is responsible for the infrastructure, access to the nbn is always through providers who not only offer different nbn plans but also take care of arranging any installation and resolving faults or problems you might have with your nbn connection.
How much does nbn in Canberra cost per month?
The cost per month for nbn access depends on the plans available from your provider, which are structured according to the connection speeds available, and sometimes according to data allowance. All of Dodo's plans include unlimited data and are only differentiated by connection speed, which influences the online activities supported.
1 Available only in certain areas with FTTP, FTTC and HFC type connections.
2 25Mbps typical evening speed.
3 50Mbps typical evening speed.
4 92Mbps typical evening speed.
What nbn speed do I need?
Two factors have the largest influence on the nbn speed you select, the online activities you engage in and the number of people in your home needing online access. All nbn speed tiers are suitable for general browsing, social media, online gaming and video and music streaming. But the more people in your home who would want to do any of this simultaneously, the higher the speed tier you would want to select. Lower speed tiers aren't great for streaming music and video at high quality, so if you are after lossless audio and 4K video quality, nbn100 would be the most suited for your needs.
It is also important to remember that the nbn connection your address has could also influence the speed tiers available to you.
What type of nbn connection do I have?
NBN Co has used a variety of technologies through the rollout of the nbn. When checking your address for nbn availability, you will also see the connection your address has access to. These include:
Fibre to the Premises (FTTP)
Fibre to the Node (FTTN)
Fibre to the Curb (FTTC)
Fibre to the Building (FTTB)
Hybrid Fibre-Coaxial (HFC)
Fixed Wireless
Sky Muster™ Satellite Service
The first five technologies listed above are found across most cities and urban areas. Regional and rural areas are mostly limited to fixed wireless or satellite technologies, with both not supporting the fastest nbn speed tiers.
Can I still make phone calls with nbn?
All nbn connection types, aside from satellite, include support for making and receiving phone calls via Voice over Internet Protocol (VoIP). This feature is not active by default and you need to request it from your provider. Your old landline handset might still work using VoIP, with Pay as You Go call rates applying. Dodo offers monthly call packs for unlimited local and national calls and bundled minutes for calling 35 popular international locations.
Can I watch TV with nbn?
The nbn does not replace or affect your ability to watch regular free-to-air (FtA) TV programming. But a nbn connection introduces the ability to connect your Smart TV and certain set-top boxes to your router or modem and access many new TV services, including streaming services. These include Disney+, Netflix, Foxtel, Stan, and more.
How to change nbn providers in Canberra
Changing from one nbn provider to another is relatively simple.
If you haven't already researched other nbn providers in Canberra and compared plans, this would be your first step. If your current plan is contract based, check if you can exit the contract early and what fees you might still need to pay.
Once you have settled on a new provider and plan, contact them to start the process. Because you are already connected to the nbn there is no installation to arrange, but you will need to state when you want your new plan and provider to start. You will also need to contact your current provider to cancel your current plan and arrange for a disconnection date, unless your new provider offers to do this for you.
Most of the time there will be minimal disruption during the switch from one provider to another and you shouldn't be without internet access for more than an hour or two. But you can always confirm this with your new provider. The only time you should expect a longer disruption is if you are changing providers at the same time as you are moving to a new address.
Typical evening speed (7pm-11pm). Speed may vary due to various factors and confirmed once connected. Fixed Wireless speeds are slower than fixed connections. See About nbn™ Speeds for more info.