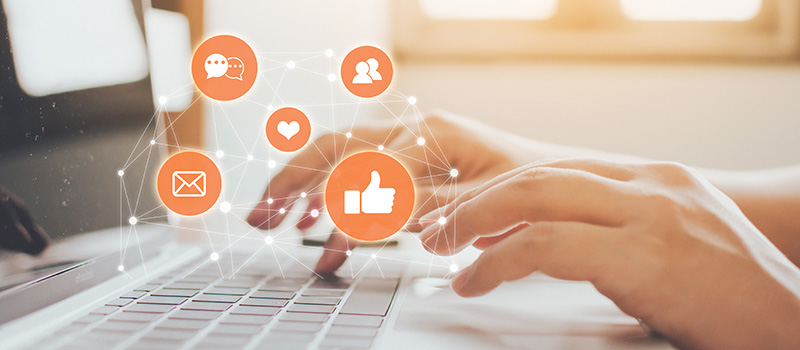 Cheap nbn™ plans
We get it; you like having a tight rein on your budget, which usually means looking for great deals and never paying for features or benefits you don't need or never use. And there is no reason this shouldn't apply to the nbn plan you sign up for. But simply choosing the cheapest nbn offered by a service provider can end up frustrating you more than the savings are worth. Here we explain how you should go about choosing an nbn plan that is cheap, but doesn't skimp on features you actually need, and explore some other important nbn considerations.
How to choose an nbn plan
Price is important when choosing an nbn plan, but so are the features that are included with that plan, particularly download speeds and data limits. The cheapest nbn plans usually don't include unlimited data and get you connected at an entry-level speed. This isn't a poor choice if you're single, or a young couple and don't engage in any online gaming but mainly use the internet for social media, email, and light streaming in SD. If there are more than two people using the internet at the same time and you want to be able to stream movies and TV shows in HD, you will need to consider a slightly more expensive plan that includes better download speeds and unlimited data.
Other conditions to look out for include:
Initial setup fees – these are waived sometimes if you sign on for 12 or 24- months contracts, but then you also need to look at the early cancellation fees you could be charged for exiting the contract early.
Limited period discounts – watch out for offers that discount the first six months, before returning your monthly fee to the regular rate. They might seem attractive, but if the regular rate is higher than what you could pay for a similar plan elsewhere, you are only saving in the short-term.
Unnecessary bundles – while some service providers give you the option to add bundles such as Fetch TV to your plan, others automatically include it by default. This needn't be a big concern unless what is bundled is something you aren't going to make use of, and you end up paying for features and benefits you don't use.
What nbn speeds are available?
Dodo currently has four nbn speed plans available for residential customers:
| nbn15 created by Dodo | nbn25 | nbn50 | nbn100 2 |
| --- | --- | --- | --- |
| A speed tier created by Dodo to provide 15 mbps typical evening speed on the nbn network.1 | With a 25Mbps average sampled evening speed 1 | With a 50Mbps average sampled evening speed 1 | With an 95Mbps average sampled evening speed 1 |
1 Fixed Wireless speeds will be lower than other nbn access types.
2 Only available in certain areas and only on FTTP, FTTC and HFC connection types.
What's the difference between nbn50 and nbn100?
Aside from the cost, nbn50 is $75 per month and nbn100 is $85 per month with Dodo, the biggest difference is the speed, nbn100 offers theoretical download speeds of up to 100Mbps and nbn50 offers up to 50Mbps. Theoretical download speeds are not always attainable, they are influenced by the number of people in a household connecting to the internet at the same time, the time of day, network capacity, and the type of connection used for nbn in your area.
Evening nbn speeds explained
Internet service providers are required to disclose the types of speeds customers can expect during peak periods, with this usually displayed as typical evening speeds. Historically, the highest network activity is measured between 7pm and 11pm. and All internet service providers should indicate what download speed their customers can expect during this time as it can affect your ability to smoothly stream movies and TV shows at night, and even the performance of online gaming. There is very little value in signing up for a great nbn deal only to find that the typical evening speeds are less than half the theoretical top download speed.
What type of nbn connection do I have?
If you live in a large city or town you would probably be able to connect to the nbn via a fixed line installation, versus regional and remote towns and areas where you might have fixed wireless or satellite access. The different types of connection technology used by the nbn are Fibre to the Premises (FTTP), Fibre to the Node (FTTN), Fibre to the Curb (FTTC), Fibre to the Building (FTTB), Hybrid Fibre-Coaxial (HFC), Fixed Wireless, and Sky Muster™ Satellite Service. You can read more about each connection type here. If you're not sure what connection type you have, type you address into our rollout map and this information will be displayed, courtesy of the NBN Co. The type of connection you have can affect the maximum download speeds you get.
What kind of modem do I need for nbn?
Most recently released modems will work just fine for the nbn, including the one you might have previously used with your ADSL connection. Newer modems also include newer technology that can boost your download speed slightly, and we have previously looked at the best modems for the nbn. But you can always check with our support staff when signing up with Dodo too. Alternatively, we can supply you with a pre-configured modem allowing you to simply plug it in to your nbn access device and start browsing.
Now that you have a better idea of what to look for before signing up for the cheapest nbn plan available, take a look at our plans and speak to us about the features you really need so we can see if we can build the perfect nbn plan for you.
Typical evening speed (7pm-11pm). Speed may vary due to various factors and confirmed once connected. Fixed Wireless speeds are slower than fixed connections. See About nbn™ Speeds for more info.