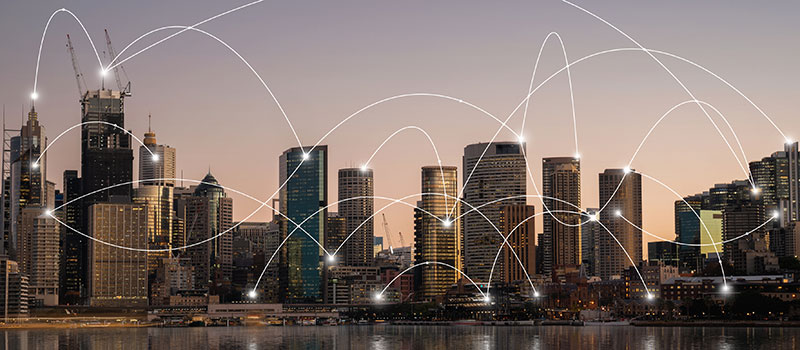 News about the National Broadband Network
The nbn™ has improved access to faster internet connectivity for many Australians, ushering in a boom in video streaming and other high-data consumption activities. Since 2013, the average monthly download usage by nbn customers have grown from under 10GB per month to more than 300GB per month.
From first mention, through to the completion of the initial build, here are some notable milestones of the nbn.
2006
Kim Beazley commits to creating a super-fast national broadband network (nbn) if the Australian Labor Party is elected to government. This would have used fibre to the node (FTTN) technology to deliver minimum download speeds of 12Mbps to 98% of Australian households, with the balance getting upgraded or improved broadband services. Early estimates had the network costing $15 billion.
2007 to 2008
Despite winning the federal election and starting planning and work on the NBN, the Labor Party had to terminate the initial Request for Proposal (RFP) after successful bidders failed to raise the required capital or meet government's requirements for the NBN.
2009
Government's plans for the NBN were revised to now use fibre to the premises (FTTP) technology–along with fixed wireless and satellite technologies–to reach approximately 93% of Australian households by the end of June 2021. The cost of this revised deployment was initially set at $43 billion, before being adjusted down to $37.4-billion, and to be financed jointly through Federal Government and private investment.
NBN Co was also established in April 2009.
2010
An RFP for the major rollout of the FTTP technology was issued early in 2010. Although proposals were received from 14 vendors, the process was suspended a year later due to the exorbitant costs quoted, with NBN Co head of corporate services, Kevin Brown, saying:
"We have thoroughly benchmarked our project against similar engineering and civil works projects in Australia and overseas and we will not proceed on the basis of prices we are currently being offered."
Tasmania was selected for the trial rollout of the nbn, with the first customer being connected to the new network in July 2010.
Also, in 2010, a newly elected government pushed for priority in the rollout to focus on regional and rural areas, and for the minimum peak speed to be 1Gbps. This was reflected in the NBN Co business plan released at the end of 2010.
2011
Five mainland areas with around 14,000 premises were chosen as first release sites in 2010, with services in these areas going live throughout 2011. The areas were chosen because they included challenges NBN Co expected to face during the full rollout. More than 50% of customers in three of the areas chose not skip installation.
An additional 14 second release sites were also announced in 2010, but construction of the nbn in these areas only started in the second half of 2011.
2012 to 2014
Criticised for being overly ambitious, the nbn rollout plan is revised for the third time since the idea of a national broadband network was first discussed in 2006. The Multi-Technology Mix plan announced in 2013 would use a mix of old and new technology. This would result in a significantly lower cost than FTTP and FTTN technologies, and a faster completion of the national rollout. A higher priority on the rollout was also to be placed on the 1.6 million premises across the country that either did not have any fixed broadband access or extremely poor connectivity.
Despite changes to the rollout plan and other challenges, by late 2013 construction of the network had already passed 300,000 premises, with just over 100,000 active customers signed on.
2015 to 2016
The Sky Muster I (NBN-Co 1A) and Sky Muster II (NBN-Co 1B) satellites are launched in 2015 and 2016, with Sky Muster I becoming operational in April 2016. Both satellites will provide nbn access to customers in remote areas where other technologies are not suitable.
Although the Multi-Technology Mix plan was meant to be less costly and faster to implement, cost over-runs and delays in the rollout are reported in 2016.
By the middle of 2016 construction of the nbn has passed almost three million premises, with one million active users now reported.
2017
A Joint Standing Committee report released in September 2017 noted issues with the Multi-Technology Mix used in the rollout of the nbn. The report showed a steady increase in the number of customer complaints relating to slow speeds and network reliability issues, along with complaints about delays in nbn services being activated. The report included 23 detailed recommendations to address these and other issues, but it still is unclear if any of these were implemented.
2020
NBN Co announced in 2020 that the initial build of the nbn had been completed, ahead of the planned deadline of June 2021. At the time of the announcement, almost 12 million premises were Ready to Connect (RTC), 7.3 million premises were already connected, and 69% of nbn customers were on a 50Mbps or higher plan.
In 2020, NBN Co also introduced three new wholesale speed tiers offering peak download speeds of 100Mbps, 250Mbps, and between 500Mbps and nearly 1Gbps. Not all nbn service providers offer these new speed tiers.
The nbn and you
Forward-looking plans for NBN Co and the nbn include continue improvements to regional and rural connectivity and performance, with a continuation of getting more premises throughout the country Ready to Connect.
The NBN Co media centre is regularly updated with new media statements and corporate reports outlining new milestones and plans for the nbn.
When considering switching to the nbn or changing plans, it can be useful to pay attention to the broadband performance data reported by the Australian Competition & Consumer Commission (ACCC) monthly and quarterly. This measures the actual nbn plan speeds during peak periods, along with average daily outages lasting longer than 30 seconds.