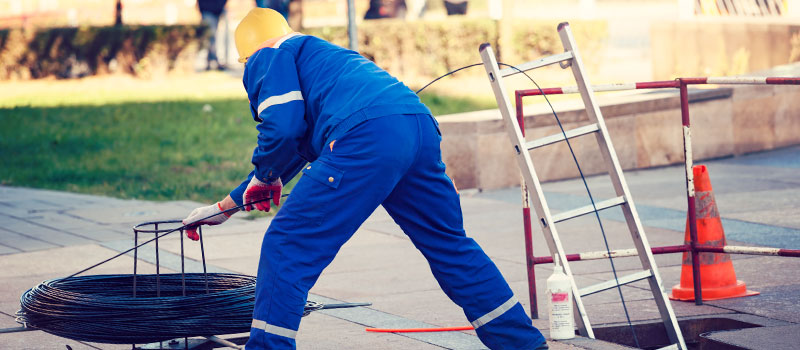 What an nbn™ installation involves
The rollout of the nbn across Australia has now reached all major centres and most regional towns but switching to the nbn is not automatic. The nbn uses all new technology and even if checking your address on our nbn™ rollout map shows that your property is nbn ready, this only means the primary infrastructure has been installed. Even if you currently have an ADSL connection, a final installation step is needed to connect your home to this infrastructure.
This installation only happens once you contact a nbn provider and sign up for a nbn plan. Qualified nbn technicians carry out the installation, but you could wait up to 30 days for it to be scheduled, depending on your nbn connection type.
The different nbn connection types
To speed up the rollout of nbn used a mix of technologies. All use fibre optic cables as part of the primary network, but the final stage–how your home connects to the primary network, could use fibre optic cables, the copper cables used by your old home phone, the cable for your Pay TV/Cable subscription, or satellite or wireless technology. Our rollout map shows if your property is nbn™ ready and which of the following connection types it uses:
Fibre to the Premises (FTTP)
Fibre to the Node/Fibre to the Building (FTTN/FTTB)
Fibre to the Curb (FTTC)
Hybrid Fibre Coaxial (HFC)
Fixed Wireless
Satellite
Knowing what connection type your home uses will help you understand what the nbn technician will do on installation day and know if there is any advance preparation you need to do.
What you need to do before the installation
FTTP, FTTC, and HFC all need the nbn technician to install a small utility box on the outside of your property, and you can find possible sites for this ahead of time. Ideally, the utility box should be placed on the same building as your electricity meter or distribution board and be easily accessible. It can't be too close to the ground, taps, downpipes, or gas cylinders, and should be as close to your existing telecommunications equipment as is practically possible. 
FTTP and HFC installations will also see the nbn technician installing a nbn connection box, separate to your modem, inside your home. The connection box needs to be close to your existing telephone jack and an electrical outlet; it needs to plug straight into the electrical outlet, not an adaptor or power board. Again, the location should be easily accessible, and in an area that is mostly cool, dry, and well ventilated. Your modem will connect directly to the connection box, and your phone will plug into the modem. Other devices in your home will connect to the modem wirelessly or using ethernet cables you will need to install yourself. If the ideal location does not have any free electrical outlets, you will need to arrange for this to be installed beforehand. The same applies if you want your phone jack moved to a new location as nbn technicians are not authorised to move these.
For Fixed Wireless connections, the nbn technician will install an antenna to the outside of your home, and a nbn connection box inside your home. The nbn technician will decide the ideal location for the antenna based on the Fixed Wireless signal strength. Satellite connections, used only in remote areas, don't use a nbn connection box but will need a satellite dish to be installed on the roof of your property.
If you are renting your property, or live in an apartment or Strata property, you will need the landlord or management company's permission before the installation happens.
What happens with the actual nbn installation
Most installations take between two and four hours to complete, but complex installations could take longer. The nbn technician may need access to your property, and for FTTP, HFC, and Fixed Wireless connections types, they will also need to come into your home. Therefor it is necessary for someone older than 18 years to be present for the installation.
Even if you have identified the locations where you want the utility box and nbn connection box installed, the technician will still assess the property to see if these are the best locations. Some drilling will be needed, but most of the process involves pulling new cables through existing telecommunications infrastructure. There should be no need for any digging on your property. 
There is no cost involved for standard nbn installations, but non-standard installations, or installations that need more than 40 metres of cabling between the utility box and the nbn connection box might incur fees for your account.
What happens after the installation
The nbn technician is only responsible for installing the necessary nbn equipment, such as the utility box, connection box, Fixed Wireless antenna, or the satellite dish, and ensuring these are connected to the nbn infrastructure in your area. They are not responsible for connecting and setting up your modem, Wi-Fi network, and other devices in your home.
Once the installation is complete, your ADSL and home phone will no longer work, and you will not have an internet connection until your nbn provider finalises the activation. This will affect any medical and security alarms in your home, but when signing up with a nbn provider they will ask about this and advise on compatibility issues. 
Activation of your nbn connection can take up to three days to complete and your nbn provider will let you know once this happens.
Setting up your nbn modem
If your nbn providers supplies you with a nbn compatible modem, you should receive this before your service is activated. You will need to set this up yourself, and we have guides available to walk you through this, regardless of the modem model or nbn connection type installed. If you have also activated the home phone service, our guides also show how to connect your home phone to your modem.
A sticker underneath or on the back of your modem will list the modem and Wi-Fi username and password, and you should write this down before you start setting up either.
Setting up your Wi-Fi
After setting up your modem it could take up to 15 minutes for all the lights on the front or top of the modem to turn on. Only once this happens can you set up your Wi-Fi network, using the Wi-Fi name and password mentioned in the previous step. For extra security, you can change the default name and password for both your modem and Wi-Fi network. If you're unsure how to do this, our support staff are always available to talk you through it.
With your new nbn service installed and activated, and your modem and Wi-Fi network set up, you can begin connecting all your devices to the network wireless or with ethernet cables, and start enjoying the faster, more reliable internet connection the nbn offers.