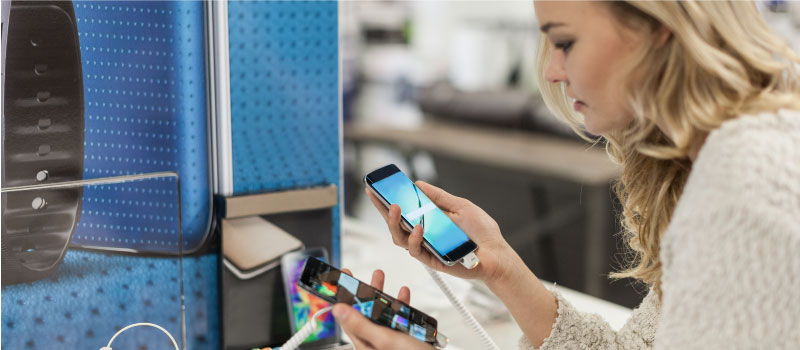 How do I pick the best phone deal?
Choosing the best phone deal isn't about finding the cheapest one, but rather about finding a deal that offers you the best value for money. Part of this process involves knowing what you need or want, and then looking for this in each phone plan you consider. We all have different expectations, making the word best subjective, and the idea of a single phone deal that stands above the rest impossible.
Start by deciding if you want a new phone too or just a phone plan, and then work out whether calls or data allocation are more important to you. For some people, a fine balance between calls and data is needed, but if you receive more calls than you make–but still need internet access–a higher data allowance is better. Then you need to consider each of the following points when comparing phone deals.
The type of phone plan
This is not only about considering whether you want a prepaid or post-paid plan, but also if there is a lock-in contract and if it includes a new phone. With most plans now including unlimited SMS and national landline and mobile calls, there isn't a big difference between pre and post-paid anymore. This changes if you also want international calls and SMS or a larger data allowance, with both inclusions being a little more affordable on post-paid with a lock-in contract. Naturally, having a new phone included with the plan will also see you having to opt for a fixed-period contract.
Wanting a new phone does not mean you have to only look at contract plans and deals. SIM-only–or Bring Your Own Phone–plans are readily available and ideal for when you're either happy with your current phone or able to buy a new phone outright. Plans that include a new phone make it more affordable to get the latest flagship iPhone or Samsung Galaxy; if that is what you want. This option will always come with a fixed-period contract with the full cost of the phone split over the contract term. While you can cancel the contract before the term is up, you will then need to immediately pay the remaining cost of the phone.
The cost of the plan
Knowing what you can afford each month will help you filter out plans that aren't within your budget, making it easier to focus on other parts of each deal. But remember that cheaper isn't always best, especially with SIM-only plans. Look at what the minimum monthly cost is, if the plan includes a phone and is the monthly cost of the phone included in the advertised cost of the plan. Also look for any hidden fees relating to activation or early termination, and the cost of additional data or call, SMS, or MMS packs. A mid-tier plan might include international calls you won't ever make use of, but it could also include a higher monthly data allowance that is better value than adding extra data each month on a cheaper plan. 
What is included
Pay close attention to what is–and isn't–included with the phone deal by reading through any applicable terms and conditions and the critical information summary of each plan. Many times, what is advertised as unlimited, infinite, or endless data actually has a monthly cap that–once reached–sees your download speed significantly throttled for the rest of the month. Similarly, if a deal includes free access to certain music and entertainment streaming services, check when the free access ends and whether you can cancel that service before being charged for it.
Plans that offer unlimited national calls might exclude calls to premium numbers from this feature, resulting in unexpected extra costs whenever you call any premium numbers. Finally, as noted before, sometimes there is better value in choosing a plan that includes some services you don't need. Choosing a plan with bundled minutes for international calls just so you can get a higher monthly data allocation is fine if the value of the additional data is greater than simply adding more data to a cheaper plan.
Network coverage
Always check what network is used by the provider you sign up with. Unless your plan is with one of Australia's mobile network owners, your provider will be using either Telstra, Optus, or Vodafone's network. Coverage for each network varies, especially outside of the major cities. Check which networks the deal uses, and then check what the coverage is like not only where you spend most of your time, but also in areas you are likely to travel to or pass through. The best deal isn't truly the best if you get fantastic 4G/5G coverage at work and only spotty 3G coverage at home.
Add-ons & extras
You also want to consider what add-ons or extras are offered, and whether these can be added as needed or only for fixed periods. Things like data and international call top-ups, or special rates for streaming services are great for people on a tight budget, or parents taking out a phone plan for their children. They give you far greater control over the monthly cost of the deal, without worrying about paying for unused data or being saddled with excess–and unexpected–data charges each month. But always look at what the cost of these add-ons or extras are and compare this to the monthly cost of other plans with higher data or international call limits. Topping up either of these every other month is fine, but if you're having to add more data or minutes every month, changing plans might be more affordable in the long term.
Picking the best phone deal is always about finding what works best for you. It won't always be the cheapest deal, and it might not be what your mates recommend, but that is because there is always more to consider.