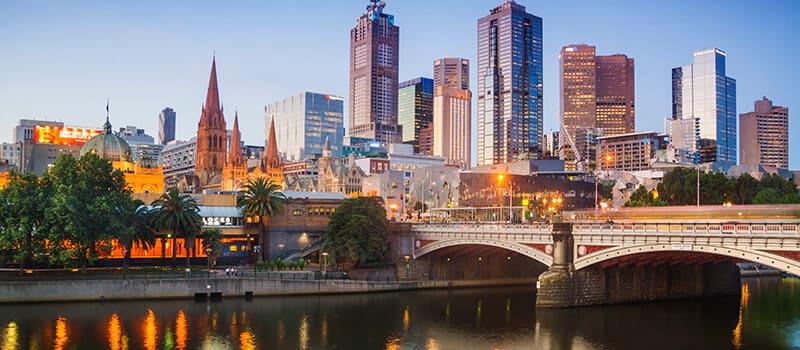 What you need to know about nbn™ in Victoria
The NBN Co planned to have the initial nbn build completed by mid-2020, but unless you live in a large city or moderately sized regional town, you could be limited to fixed wireless nbn, or no nbn at all. Heritage sites and other geographical challenges still result in some delays in getting nbn coverage across all of Victoria and other states and territories.
About the nbn
The National Broadband Network (nbn) is a national data network project rolled out to replace the old copper cable network with new, faster fixed line, fixed wireless and satellite infrastructure. As an end user – either business or residential – you would get fixed internet access on the nbn via an internet service provider. 
There are five different speed options available for nbn, but the speeds available to you will depend on your connection type and the packages offered by your chosen internet service provider.
How to connect to nbn?
Getting connected to the nbn network is as simple as checking your address on our updated rollout map. You will be able to see if your address is ready to connect to the nbn, and what technology is being used for your location.
If your address is ready for nbn, check out Dodo's nbn plans and then give us a call on 13 36 36 to get the process started. If some nbn equipment needs to be installed first, we'll arrange for a technician to visit your address to complete the setup, and also arrange to get a pre-configured nbn compatible modem to you.
If you're one of the few locations still not yet covered by the nbn, we can still offer you an ADSL plan in the interim, with automatic switching over to nbn as soon as it is available at your location.
What does nbn installation involve?
Some types of nbn connections require additional equipment to be installed in your home or on your property. These include Fibre to the Premises (FTTP), Fibre to the Curb (FTTC), Hybrid Fibre-Coaxial (HFC), Fixed Wireless, and the Sky Muster Satellite Service. If you've never had nbn in your home before, a technician will need to come out to install the equipment. This will affect the time it takes for your installation to be completed, which can be anything from 2 to 20 days. If you already have nbn and are just switching provider, this usually doesn't require a visit from a technician and is typically completed in 2 business days, with minimal downtime.
What nbn download speeds are available?
The nbn offers five wholesale speed packages, but these aren't available in all areas, nor are they all offered by internet service providers. Check out our plans to see what speeds are available through Dodo. Typical download speeds represent speeds during busy periods but can also be influenced by the type of connection you have, number of concurrent users in your household, and how the network in your area has been configured. Current wholesale speed packages promoted by nbn include:
Home Basic I - designed for very basic usage with typical busy period speeds of less than 12Mbps.

Home Basic II - designed for households with minimal users online at the same time. Download speeds should reach at least 15Mbps during busy periods.

Home Standard - ideal for high-definition (HD) streaming, playing games online and working from home. Download speeds should reach at least 30Mbps during busy periods.
Home Fast - ideal for 4K video streaming, downloading files and using multiple devices online at the same time. Download speeds should reach at least 60Mbps during busy periods.
Home Superfast - ideal for concurrent 4K video streams, downloading very large files, and using multiple devices at the same time with download speeds up to a theoretical maximum of 250 Mbps
Home Ultrafast - the fastest available NBN speed with download speeds up to a theoretical maximum of 1000 Mbps
Is switching to nbn compulsory?
The nbn is meant to replace the old copper cable network previously used for making and receiving phone calls on your home phone, and for connecting to the internet using ADSL. While the old network isn't being disabled immediately, it is being switched off within 18 months of nbn being installed in each area. This means if you currently have a home phone and ADSL internet, you will need to either switch to nbn at some point in the future or switch exclusively to mobile calls and mobile internet access. If you are currently with Dodo, we will automatically switch you over to nbn once it is available in your area, but not without first alerting you of the change.
Where is nbn available in Victoria?
Our up-to-date nbn rollout map can be used to see all the areas of Victoria that already have nbn coverage. The nbn is available throughout Melbourne and in most regional areas of Victoria, with Fixed Line coverage throughout Melbourne, and Fixed Wireless technology used through the Gippsland district and south-western coast of Victoria, and up through Ballarat and Bendigo.
Do I need a new phone for nbn?
In most cases your old home phone will continue to work on the nbn, though it might be plugged into your Modem instead of the old wall socket. However, you should note that with some types of nbn connections, your home phone will not work during a power outage and this could impact medical and security alarms you have enabled.