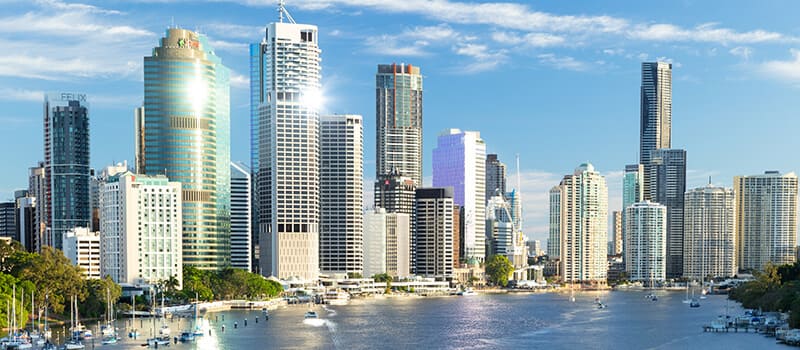 What you need to know about nbn™ in Queensland
The initial nbn build was scheduled to be completed by mid-2020, though this was focused on more developed areas, with heritage sites and geographical challenges delaying the rollout in some rural areas. The larger towns and cities of Queensland benefit from fixed line installations, with smaller towns and regional areas limited to fixed wireless nbn, or no nbn at all. Limited satellite services might be available in remote areas, and future builds might see additional services becoming available in some areas of Queensland.
About the nbn
The National Broadband Network (nbn) is a national data network project that has been replacing old copper cable networks with newer infrastructure and technology, for a faster internet connection that is more capable of delivering services such as TV and movie streaming and online gaming. Although the NBN Co makes five different wholesale speed options available to internet service providers, not all of these will be available to end users. Your nbn connection type and the packages offered by different internet service providers will influence this.
How to connect to nbn?
Start by checking if nbn is available for your address. Enter your address details on our up-to-date rollout map to see if your address is nbn ready, and also the type of connection supported at your location.
You can then check out our nbn plans and call us on 13 36 36 to get connected or build a plan and sign up online. We'll arrange to get a new modem shipped to you if necessary and organise a technician to take care of the rest of the connection process, which might involve some additional equipment being installed in your home.
For areas not yet covered by nbn, we might still be able to get you connected to the internet using ADSL, which can be switched to nbn as soon as the new network is available at your address.
What does nbn installation involve?
Depending on the type of nbn connection available at your location, you might need to wait anywhere from 2 to 20 days for installation to be completed. While the bulk of the infrastructure is already installed if nbn is available in your area, Fibre to the Premises (FTTP), Fibre to the Curb (FTTC), and Hybrid Fibre-Coaxial (HFC) connections require an access device separate to the modem to be installed inside your home. Fixed Wireless and the Sky Muster Satellite Service installations might require additional equipment to be installed outside your home. However, if you have previously had nbn at your address and are merely reactivating it or switching to a different internet service provider, no installation is necessary, and this process usually takes no longer than two business days.
What nbn download speeds are available?
Speed packages currently promoted by the NBN Co include:
Home Basic I - designed for very basic usage with typical busy period speeds of less than 12Mbps.
nbn15 created by Dodo – a speed tier created by Dodo to provide 15 mbps typical evening speed on the nbn network.  
Home Basic II - designed for households with minimal users online at the same time. Download speeds should reach around 25Mbps during busy periods.
Home Standard - ideal for high-definition (HD) streaming, playing games online and working from home. Download speeds should reach at least 50Mbps during busy periods.
Home Fast - ideal for 4K video streaming, downloading files and using multiple devices online at the same time. Download speeds should reach at least 100Mbps during busy periods.
However, these are wholesale packages available only to internet service providers. As an end user, the nbn download speeds you might have access to depend on the type of connection at your address, along with the nbn packages offered by your chosen service provider. Actual download speeds are further affected by the time of day, with more activity happening at night, resulting in slower speeds, along with the network configuration in your area, and the number of people in your home using the nbn at the same time.
What are the monthly nbn fees & costs?
Monthly nbn costs depend on the package or plan you sign up for. Dodo has four unlimited data nbn plans available:
nbn15 created by Dodo – minimum monthly cost from $5/month
nbn25 - minimum monthly cost from $65 /month
nbn50 - minimum monthly cost from $75 /month
nbn100 - minimum monthly cost from $85 /month 
Note that this minimum monthly cost does not account for early cancellation fees, the cost of phone calls, once-off fees for pre-configured modems nor any Fetch TV bundles you include. In some instances, the NBN Co might charge a once-off connection charge for brand new installations.
Where is nbn available in Queensland?
Our regularly updated nbn rollout map shows exactly where nbn connections are available in Queensland; toggle the "Show service type" switch to highlight where Fixed Line and Fixed Wireless technology is used. A large section of the Queensland coastline, from Coolangatta, through Brisbane and into Caboolture benefit from Fixed Line installations, along with larger cities such as Toowoomba, Bundaberg, and Townsville. Smaller towns and rural areas might be limited to Fixed Wireless.
Do I need a new phone for nbn?
Depending on the type of nbn technology used for your connection, you will either be able to plug your current home phone directly into the modem we supply, or it will continue to use the old copper cable technology for calls only. The technician taking care of your installation will be able to confirm which applies to you. If your telephone now connects through the modem, you won't be able to make or receive calls when the power is out, and this could also affect any medical or security alarms you have installed.