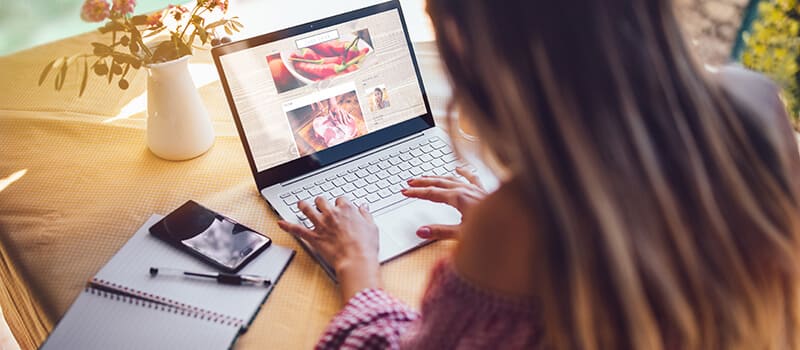 nbn™ versus mobile broadband: Which is better?
As 5G starts to become available around the country, you could expect to hear a lot more people shying away from nbn and praising mobile broadband as being superior. Similar claims were popular when 4G replaced 3G, and even when 3G replaced EDGE.
Truthfully, they're complementary technology rather than competitive, with each offering some benefits not afforded by the other, making each more appealing to a specific user. Instead of being influenced by the opinion of other people, you should be familiar with the basics of each technology, along with understanding how each differs from the other. This will not only allow you to better appreciate the strengths of each, but also to be able to confidently decide which is better for your specific needs.
The basics of nbn
The nbn came about following a multi-year upgrade to the infrastructure Australians use to connect to the internet. Most of the new infrastructure uses high-speed fibre optics to transmit data, but the Multi-Technology Mix (MTM) employed by the NBN Co has meant that the actual technology used in homes, business, and buildings varies. These include full fibre optics found in Fibre to the Premises (FTTP) installations, a mix of cable TV technology and existing copper lines with Fibre to the Node (FTTN), Curb (FTTC), Building (FTTB), or Hybrid Fibre-Coaxial (HFC).
Even when using Fixed Wireless or the Sky Muster satellite service, nbn is what is known as a fixed broadband service. Like any broadband service, it is high speed and always on, but in a fixed location. A Wi-Fi enabled modem router makes it possible for you and other people in your home, to connect to the internet from anywhere on the property, but you can't take the modem router with you to work or a coffee shop and still connect to the internet.
To access nbn you first need to confirm that it is available in your area, before selecting a service provider and an appropriate plan. With nbn you can choose a range of download speeds, with either a capped or unlimited data allocation.
The basics of mobile broadband
The mobile here doesn't only refer to the fact that this type of broadband internet access uses similar networks and technology as your mobile phone, but also that like your phone, - it is mobile. You can access the internet from anywhere, as long as you have a mobile signal. Depending where you are, it might be a 3G or 4G connection with 5G networks also now slowly being rolled out,  5G will bring drastically increased download speeds and reduced latency. Most  mobile devices available today are able to connect to both 3G and 4G networks, but not 5G. Even if you live in an area where 5G is available, you might not be able to benefit from the higher speeds it offers until you upgrade your device.
Although you can get a dedicated mobile broadband modem or dongle, you can also use your mobile phone for mobile broadband access, as long as you have data available. Your phone can be used to create a wireless hotspot, allowing you to access the internet on your laptop or any other Wi-Fi enabled device to one that is 5G capable.
It is important to know that your mobile plan does not automatically give you access to mobile broadband, unless your plan includes a data allowance. Additionally, if you have a dedicated mobile broadband modem or dongle, you only use the data allowance for that device when connecting through it. If you leave it at home and then want to use mobile broadband while out and about, you will need to use your phone and the data allowance included with your phone's plan.
How nbn differs from mobile broadband
While both the nbn and mobile broadband make it possible for you to go online, browse the internet, use social media, play games, and stream, there are some key differences between the two that can influence which is better for you.
 
 
nbn
Mobile Broadband
Cost

The monthly costs depend on your service provider and the plan you select. Dodo currently offers four nbn plans:

• nbn15 created by Dodo from $55/month
• nbn25 from $65/month
• nbn50 from $75/month
• nbn100 from $85/month

With Dodo there is also a low once-off fee of $60 for your modem

The monthly costs for mobile broadband are also influenced by the service provider you use, along with the data allocation you select. Dodo offers mobile broadband access that is powered by the Optus 3G & 4G Plus Network:

•  15GB Data Allowance at $20/month 1
•  25GB Data Allowance at $40/month 1

Dodo does not provide any mobile broadband hardware, so there is no additional monthly cost for this, and no setup fee either.
 

Speed

There are multiple nbn speed tiers available:
•  Basic or nbn12
•  Standard or nbn25
•  Standard Plus or nbn50
•  Premium or nbn100 
•  Home Superfast or nbn250, for up to 250 Mbps download speed 
•  Home Ultrafast or nbn1000, for up to 1000 Mbps download speed 

Plus, a speed tier created by Dodo to provide 15 mbps typical evening speed on the nbn network.  
However, not all service providers offer all speed tiers, and the technology used to connect your property to the nbn also influences the maximum speed available to you. A number of other factors further influence actual speeds you may experience, with typical evening speeds being considerably slower than the theoretical maximum download speed for your chosen speed tier.

There aren't different speed tiers with mobile broadband, though the network you use, along with the technology and a number of other factors all influence the typical download speeds you might experience. In theory 3G offers download speeds of up to 16 Mbps, though actual speeds are usually much lower. Similarly, 4G in theory supports download speeds of up to 1 Gbps, though most users can expect actual speeds of between 12 Mbps and 100 Mbps, with higher speeds generally experienced in areas with better coverage and not too much congestion. If you are using a mobile broadband modem or dongle to share a mobile broadband connection with multiple people at the same time, the actual speed will also be much lower. 5G is meant to offer download speeds far superior to that of 4G, but this is not yet supported by many devices, and is only just becoming more widely available.
Data Allocation
While some plans do still have a fixed monthly data allocation that will vary according to the provider and monthly cost, many providers now also offer plans with unlimited data, so you never have to worry about losing access or paying higher rates for any excess data used.
While you might find unlimited data offered with some 5G plans, it is rare to find this on typical 3G/4G plans, unless it comes with a severely throttled speed. Higher data allocations of 100GB and 200GB per month are available, but these cost from $60/month, depending on the provider and whether or not you sign up for a contract term.
Excess Costs
With an unlimited plan you won't need to worry about any excess charges, because many providers, including Dodo, don't charge for extra data used once reaching your monthly data allowance on a capped account. We simply throttle the maximum speed until the next billing period begins.
The cost of any data used over and above your monthly allocation varies, with Dodo charging $15 per additional GB for mobile data.
Getting Started
In order to start using nbn you first need to check if it is available for your property, before choosing a provider and plan. Depending on the technology used, you may need to wait for a technician to come out to install and set-up an nbn access device, satellite dish, or aerial. Once that is done, you should be able to connect and set up your modem router and create a Wi-Fi network yourself.
You will either need to supply your own device or be issued with one by your service provider. They will also supply you with a SIM, and once inserted into your device, you will immediately be able to go online.
1For one month only plans.
For some user's speed will be an important consideration, but if you want to be able to stream movies and TV shows in HD, cost and data allocation might be more important. And while mobile broadband might offer superior and more stable speeds than the nbn in some areas, for heavy internet users the cost of mobile broadband data could be too prohibitive. It is not about whether mobile broadband is better than nbn, but rather what is better for you and your specific needs.