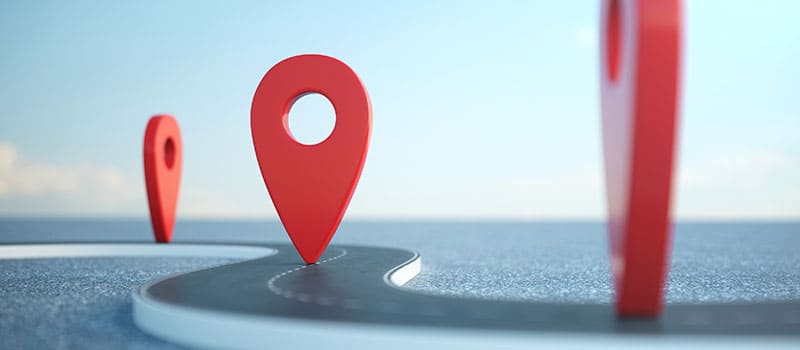 How to check your address for nbn availability
NBN Co, the organisation created to design, build, and operate the nbn, originally planned to have most of Australia nbn, ready by 2021. Instead, they we able to achieve this goal by late 2020, with only a small number of premises not yet ready to connect in areas that are considered ready for service (RFS).
New developments, premises with accessibility problems, and a few commercial and residential building influence this. But the best way to check if your address is ready to start using the nbn is to use our rollout map and nbn availability checker.
Here's how to do that.
Checking your address
Our nbn™ rollout map shows the availability of nbn Fixed Line and Fixed Wireless services right across Australia. Areas overlayed in purple are fully nbn ready for one of these two service types, brown shows that, while not nbn ready yet, the build has started, and green shows an area covered by a fibre provider not linked to the NBN Co. The large expanses of white do not mean those areas have no coverage, but rather that they are probably covered by the satellite service. You can confirm this by using the NBN Co's own rollout map. Our map uses the latest data supplied by the NBN Co but excludes satellite services.
The fastest way to check your exact location is to type you address into the field provided in the top left corner of our rollout map. This might bring up several similar addresses in other locations, and you simply need to scroll through them to find the correct one. Once selected, the map will zoom in on the location, and a new panel will display under the address field.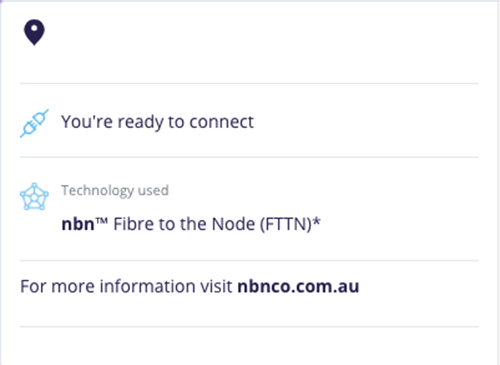 The two things you are looking for are confirmation that "You're ready to connect" and the technology used at your address.
There are significant differences between Fixed Line and Fixed Wireless services, but the NBN Co has also used a mix of technology for Fixed Line services that will also influence your choice of plan from your preferred nbn provider.
Understanding the technology used
The biggest influence the nbn technology used at your address is on the theoretical maximum speed the technology supports. However, just because the technology used at your address supports a theoretical maximum speed of 1Gbps does not mean that is the speed you can expect. Your actual speed will depend on the plan you sign up for, with several other factors further influencing your top speed, such as:
Peak periods1, when a high number of users are online at the same time, not only in your home, but on the node or exchange your connection links to.
The online activity you are engaged in, and the number of people at your address connecting at the same time.
Interference with the Wi-Fi signal at your address, which could be caused by the layout of your home, or other devices.
1 The Australian Competition & Consumer Commission (ACCC) regularly tests the peak period speeds for all nbn plans from all providers. This information should always be displayed with the plan information shown on each provider's website.
| nbn Technology | Top Speed Supported |
| --- | --- |
| Fibre to the Premises (FTTP) | All speed tiers up to a theoretical maximum speed of 1Gbps.1 |
| Fibre to the Node (FTTN) | Theoretical maximum download speed of up to 100Mbps. |
| Fibre to the Curb (FTTC) | All speed tiers up to a theoretical maximum speed of 500Mbps. |
| Fibre to the Building (FTTB) | All speed tiers up to a theoretical maximum speed of 100Mbps. |
| Hybrid Fibre-Coaxial (HFC) | All speed tiers up to a theoretical maximum speed of 1Gbps. |
| Fixed Wireless | All speed tiers up to a theoretical maximum speed of 75Mbps. |
| Sky Muster Satellite Service | A Fair Use Policy (FUP) applies to the satellite service, which can affect supported theoretical maximum speeds of up to 25Mbps. |
1 This maximum theoretical speed is not currently available on the nbn™.
The nbn™ Technology Choice Program offered by the NBN Co allows customers to pay for a change to the nbn technology used at their premises, with every premise having the potential to switch to a FTTP connection. However, the costs for this vary greatly.
The NBN Co deals with applications directly.
What next?
Once you've confirmed nbn availability at your address, you can begin exploring the different plans offered by nbn providers. Things to consider when choosing a plan include:
The speed. Consider what you're using the internet for and how many people/devices are using it at once.
The monthly costs, along with any other fees.
Data allowances. Although many plans now include unlimited data, some still include a fixed monthly allowance.
Contract type. There are a few benefits to signing up for a fixed term, but you should always look at whether these apply to you, and what the costs would be if you decide to end the contract early.
Once you've decided on a nbn plan, you can begin the process of signing up online. If you've never had nbn at your address before, a final installation step needs to be completed, but your nbn provider will arrange for this to happen. This could take up to 30 days to happen, but once done your nbn provider is usually able to activate your service within three days.
Once connected, your nbn provider will carry out tests to confirm that your line supports your chosen speed tier and if it does not, they will arrange to move you to a tier your line does support.