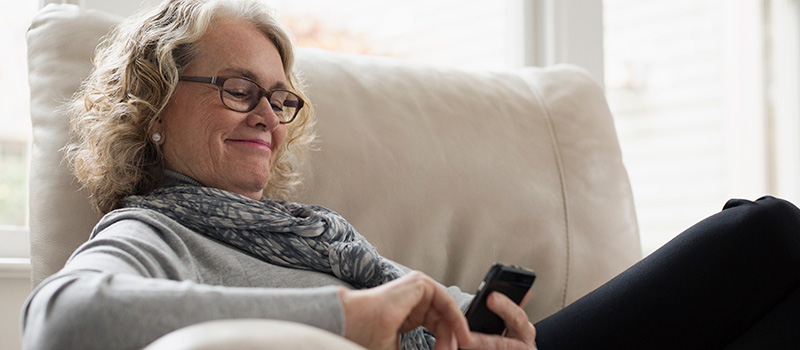 What you need to know about unlimited data
We've all been intrigued by the prospect of unlimited phone data. Naturally, removing the stress of monitoring your data use each month is an appealing idea. But are you sure you're taking full advantage of your unlimited data? And is unlimited really the best choice for you? We discuss some of the things you should know about unlimited data plans. 
What does unlimited data mean?
Unlimited data is exactly what the name suggests, a mobile plan that offers you no cap on data usage. It means you don't have to worry about going over your limit and spending more each month and gives you the freedom to use as little or as much data as you like. Infinite access to internet can feel great for many users, but many find themselves left unsure about how to take full advantage of the plan. 
What's the downside to unlimited data? 
While you will be given unlimited data, many plans known as shaped plans have certain caps where the speed of your internet will start to slow down. If you're someone that uses the internet a lot, you may find around the end of the month it takes a lot longer for you to open up URLs and watch videos. These are known as speed caps, and all unlimited plans will have this if you go over a certain threshold.
If you don't mind the slow speeds (after reaching a certain limit on a shaped plan) provided as long as you have constant access all month, unlimited is for you. But if you get a headache watching a site load for more than 3 seconds, you should probably look at alternatives on your mobile plan. 
Is unlimited data the best option?
Despite the temptation of no cap plans, it might not be the best option for your needs and you might find yourself spending more on data that you don't actually use. With the average monthly usage at around 9GB, a lot of people don't actually use enough data to justify the price of an unlimited plan and are probably better off with a plan that meets their average usage. 
Alternatives to unlimited 
So, if unlimited isn't for everyone, what are the alternatives?
You can select a plan with a data cap you are comfortable with. There are still a lot of data plans that have a decent amount of data to let you comfortably use the internet on your phone and you can easily track your usage online. 
If you are cautious about not using more than the allocated amount for the month, Prepaid may be the options for you. It's a "bring your own phone" SIM only plan, allowing you to pay your mobile plan fee upfront and avoid the fees and charges associated with excess data usage. If you need more data, you can add more for the month via top ups. Many people prefer the control that SIM-only prepaid plans offer, and if you find yourself using a lot then you can better track spending, only paying for what you use. 
Every individual is different, and we advise you research your options before committing to one plan. If you're considering unlimited, make sure you clearly understand all the terms and conditions of your plan, and prepare for the extras and potential challenges you may face. 
Dodo offers SIM-only Post-paid plans, so you have more control
Everyone has different needs for the phone, whether it's for work or personal use. The great thing is Dodo helps you get a perfect plan that works for your budget and manage your spending/data usage. We make it easy for you to weigh up your options online, and if you have any questions our customer service team is always available! Get started with Dodo today! 
Dodo's promise
We want data and mobile plans to be accessible and affordable, which is why we tailor our service to suit our customers. With every plan we promise:
No lock-in contracts1: We don't ask you to commit to 12-months, providing flexibility as your needs change.
Network guarantee: We are powered by the Optus 4G network, covering 98.5% of the population.
Manage your plan with My Dodo: My Dodo is an online portal that lets you view usage, bills and manage your services all in the one place.
Join today
Sound like it's up your alley? Let's start saving you money! Our flexible plans are ideal for people looking for complete visibility of their phone usage, and with My Dodo you are able to access all the information you need. Visit us at dodo.com/mobile or call the team on 13 Dodo to discuss your options!
Energy Information
Phone Plans
Internet
1 $10, $20, $25, $35 min cost
Frequently asked questions
Our customer service team is always available to answer any questions, but here's a few FAQs of ours.
If you've finished an existing plan and want to find something that matches your needs better, you should be able to easily switch providers. Switches will require a new SIM, but we offer full support in switching providers.
Absolutely! In fact, we encourage it! Dodo doesn't just offer mobile plans, we're also a recognised energy provider. So, if you're looking for electricity and gas, you can combine it and save on internet!
We aim to provide our customers with all the necessary resources to make a smart decision on their mobile plans, but if you're not sure whether you're getting the best deal, our customer service team can walk through your options with you.
The number of providers out there can be overwhelming, and it's hard to dissect the many offers that you may have across the board. One thing you can rely on is that Dodo is here to get you a great deal, with a customer first mission. Set up a Dodo plan to see for yourself!
Got more questions? Call the team on 13 Dodo. We're here to help!