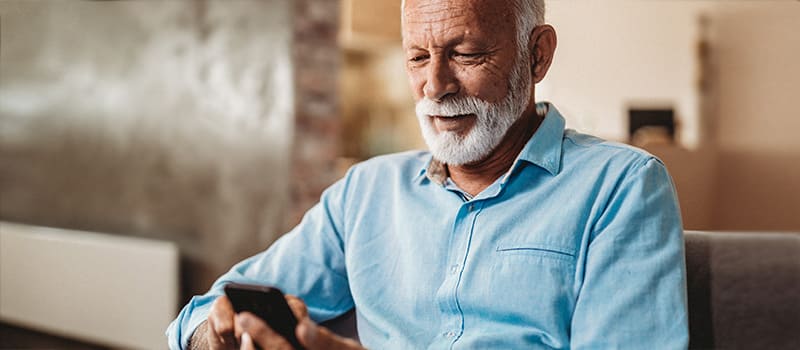 Mobile phones for seniors
We are more dependent on mobile phones than ever before and, how we use mobile phones will change as we age, this is reflected in some mobile phones that are designed with simplicity and accessibility in mind.
Smartphone or "regular" phone?
Smartphones are great; they're like a minicomputer, small enough to slip into your pocket or handbag, but powerful enough to allow you to find information online just as easily as it is to call or text someone. But as you age, your eyesight can weaken, your fingers can become less flexible and, a phone that was easy to use can become more difficult. If you find yourself struggling to see the screen of your smartphone clearly and tapping at elements on the screen is more miss than hit, simplifying your phone might be the perfect solution. A regular mobile phone, that has physical buttons instead of a touchscreen, and allows you to make and receive voice calls and text can be a great choice for seniors.
While you find smartphones being promoted more than regular or feature phones by mobile networks and retailers, they are by no means the only mobile phones available.
What features are better for seniors?
There's no suggestion that seniors forego a smartphone completely; if you're comfortable and happy with a smartphone there's no reason not to keep using one. But if you're finding yourself mistyping phone numbers and messages, or struggling to hold onto a sleek smartphone, features you can consider when looking at a new phone include:
A rugged design and a body narrower than that of most smartphones. This makes it easier to hold onto, but also better at surviving the occasional knock or drop.
3G or 4G. This is essential as some feature phones could use older technology, which shouldn't be a problem unless they only support 2G. Although 5G is in the process of rolling out across Australia, 3G and 4G will continue to be supported for some time.
Long battery life, and possibly a cradle-type charger. This means less worrying about charging the phone daily, and a cradle-type charger makes it easier to charge without fiddling with cables.
Easy access to speed dial, so that emergency numbers and contacts you call regularly can be dialled quickly.
An SoS or emergency SMS button, similar to speed dial but pressing just one button can send a pre-programmed message to a set number.
Bluetooth and/or hearing-aid support. Some hearing-aids support connecting to mobile phones using Bluetooth technology, but even if your hearing-aid doesn't have this function, it could still support microphone mode or telecoil coupling. If so, look at the M (microphone) or T (telecoil) rating of the phone to get an idea of how well it will work with your hearing-aid.
Accessibility features. This should be available on all smartphones, though many feature phones will also allow you to make certain changes that make the phone more accessible to you. This could include making the text on the screen bigger, adjusting the screen contrast so that text is also easier to read, and easy access to adjust the speaker and ringtone volume.
Finally, if looking only at feature phones, look for larger buttons that are easy to press.
What phone plan is best for seniors?
While you might struggle to find a basic feature phone included with some plans at different network operators, you can find Nokia phones and other mobile phones designed specifically for seniors selling for less than $200 on Amazon. These phones are unlocked, so you aren't restricted to using them with a particular network operator or plan. If you don't have a smartphone, you don't need an expensive phone plan either. Check out Dodo's mobile plans to find one that suits your needs.