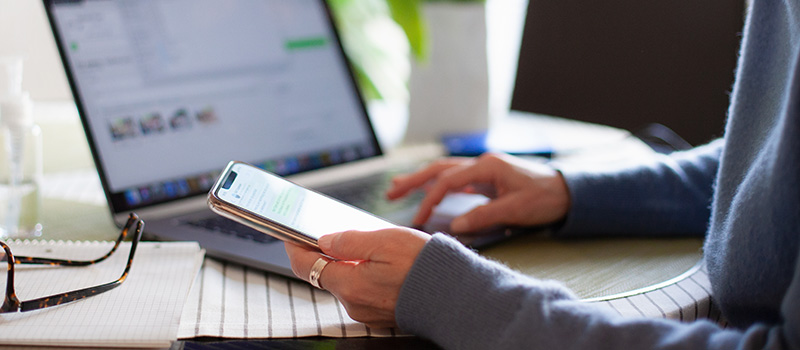 What to compare when looking at different mobile plans
There are a whole lot of mobile plans out there and a whole lot of different providers. It can be overwhelming to know where to start and sometimes users settle for something that doesn't suit just to get over the headache of choosing.
But if you're complacent with your phone plan, or don't do your research, you might find yourself spending more money that needed to get the plan you prefer. Whether you're looking for a contract or want to have a prepaid deal, here's how to choose the perfect mobile plan for your needs. 
Mobile plans – How to compare
Do your research on providers but do your research on the plans they offer too. Not every plan includes the same features. 
Lock-in contracts
If you're someone who likes flexibility you might be interested in the contract flexibility of your phone plan. Many plans have a lock-in contract that's paired with you paying off a smartphone over the term of the contract which, if you want a reasonably affordable plan, can extend to 48 months with certain providers. These contracted plans can't be broken without you paying a fee and all the remaining money owing for the device you originally purchased. You might be fine with the long-term plan, as it can be an easy way to pay for your phone without having to consciously think about it. But some people might prefer more flexibility, which is where a prepaid or no lock-in contract only plan might be more valuable.
Data
The average smartphone user uses around 9GB of data each month. Do you know how much data you are using? If you're someone who likes to browse, stream, use data-consuming apps, you'll likely want a lot of data. If not, don't worry about spending money on any extra data. Keep in mind that choosing unlimited data might not necessarily be the best choice for you either.
Prepaid or post-paid?
We all have our preferences and you might find that the more common post-paid option where you pay your bill at the end of the month – doesn't suit you. Prepaid options can help you manage your money better and if you are opting for a SIM only plan, you have the flexibility to reconsider the subscription you've chosen after you reflect on the last month. 
Inclusions
Make sure to always read the fine print on your inclusions. Can you get international calls as an inclusion? Do you have fees for roaming? How about minutes and texts? You'll want to have a good idea about your own phone use, professional and personal in order to almost custom build a great plan that meets your individual needs.
Extras
Make sure you don't get caught out paying for extras you didn't know were extras. If your preferred plan doesn't include something, you can add it as an extra, but it's good to add it in foresight, not after the fact. Companies will usually charge a marked-up fee if you use, for example, international roaming without setting that up as an extra. 
Bundling your plans, sharing your plans
If you pay for electricity, gas and internet, you might find a benefit to bundling these. Usually if a company offers multiple services, they want their customers to use multiple services, so they'll offer discounts, extras and bundle prices. 
On the topic of bundle prices, have you considered a shared or family plan? If you have a partner, children or just a close group of friends you regularly stay in touch with, a shared plan could help you save money.
Paying off a smartphone 
If you've started a contract with a new smartphone, you are probably paying it off with the plan. If you cancel this plan you will need to pay the remaining amount on your device, so depending on the money you owe for your device, it may be best for you to stick to your current contract. If you don't want to commit to a contract you might want to consider, paying for your phone upfront and choose a plan separately. You can even choose a SIM only plan that lets you pay in advance and modify/manage your subscription where you want. 
Ready to choose your mobile plan?
Once you've done your research you can find a plan that includes all the features that'll ensure you can use your phone how you like. Dodo offers a variety of phone plans to suit the needs of all of our customers and our friendly team are always available to offer support and guidance. Visit https://www.dodo.com/mobile to get started!
Why Dodo?
We put our customers at the forefront of all our decisions, which is why we ensure a fantastic experience backed by the Optus Network.
No lock-in contracts1: We don't ask you to commit to 12-months, providing flexibility as your needs change.
Network guarantee: We are powered by the Optus 4G network, covering 98.5% of the population.
Manage your plan with My Dodo: My Dodo is an online portal that lets you view usage, bills and manage your services all in the one place.
Join the Dodo family!
We offer a variety of services, including gas, electricity and home internet. No need to juggle multiple providers and multiple bills, manage it all with Dodo. If you're ready to start a new flexible mobile plan, visit us online or give the team a call today!
Call 13 Dodo
Bundle with us
As we offer multiple services and provide energy across the country, you can get fantastic bundle deals on your energy and internet. Talk to one of our representatives to see what you are eligible for. 
Are you on the right plan? 
If you've stuck with the same plan for a while you might not be on the perfect plan anymore. Get in touch with the Dodo team and we can discuss alternatives that might have you saving each year!
Please don't hesitate to contact the team with any questions you may have. We're here to help!
Energy Information
Phone Plans
Internet
1 $10, $20, $25, $35 min cost