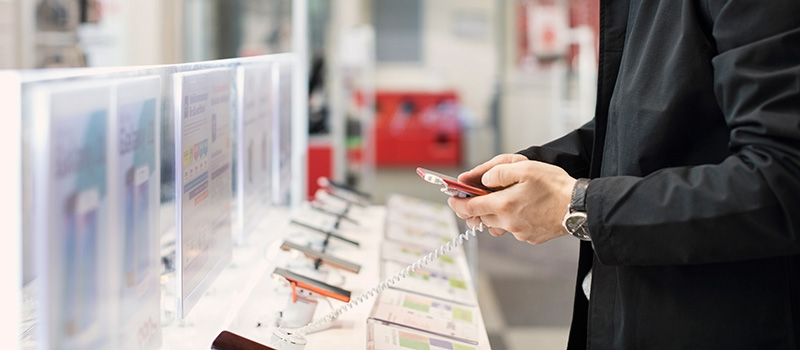 How to choose a new mobile phone plan
Whether it is for yourself, your parents, or for your child's first mobile phone, there's more to choosing a new mobile phone plan than just looking at the price. From looking at what is and isn't included in the monthly cost, to the type of network, we take you through some of the lesser known steps of choosing a new mobile phone plan.
Features to consider in a phone plan
We all use mobile phones differently, so the following are suggestions of features to consider when looking for a new mobile plan. You understand your phone usage first, before deciding which of the following are important to you.
Prepaid or post paid
To use prepaid, you need to already have a mobile phone, or buy a new one. Prepaid plans give you greater control over your monthly mobile spend, making them the perfect plan for young children and anyone trying to limit their mobile phone expenses. And with many mid-range smartphones costing well below $1,000, and regular feature phones for under $100, having to provide your own phone is no longer a costly requirement.
Of course, if you're looking for the latest flagship iPhone or Samsung smartphone and fewer limits on your data usage and the types of calls you can make, post-paid could give you access to these. As long as you are comfortable not knowing what your monthly bill will be.
SIM only or phone on a plan
SIM only plans, where you/ receive a new SIM card and need to supply your own mobile phone, are offered across both prepaid and post-paid deals, because network operators understand that some consumers are either happy with their current phone, or want a phone not offered on any existing plans. But if you're on the market for a new mobile phone and a new post-paid mobile phone plan, contract deals that include a mobile phone would be worth exploring. But pay attention to the terms of the contract, not only how long you are locked into the contract, but also the cost and calls and data you get access to each month for that cost.
Unlimited data
Prepaid plans generally don't offer any type of unlimited data; you either get no data, or a fixed amount of data. And once the data allocation is depleted you cannot use any online services until you load more data. Post-paid plans offer either a form of unlimited data, or a hard cap. Both of these actually have a stated data limit for each billing period, but with "unlimited" data you can continue using data above the stated limit without being charged any excess usage fees, although at a much lower speed. With a hard cap you will either not be able to access online services once you've depleted your data allocation, or you will be charged per megabyte (MB) or gigabyte (GB) that you use. This is added to your bill each month and can result in an unexpectedly high bill if you aren't disciplined. If you choose a plan offering unlimited data, look at what the terms are and any exclusions or speed slowdowns that are imposed.
Data rollover
This is less common than unlimited data deals, but still worth looking at with plans that include a hard limit on data. If you don't use the full data allocation each month, does the unused portion rollover, and if so, for how many months will its rollover? If your average data usage is 10GB a month, then it doesn't make sense to get a plan offering 20GB of data, even if it rolls over. Data rollovers are only useful for individuals whose data usage varies from month to month.
Streaming services
You're unlikely to find this with any prepaid mobile phone plans, but they are sometimes included as promotional deals with post-paid plans. They will either be data-free but capped speed, streaming for certain video, sport, or music services, or offer a low-cost subscription to certain streaming services for the duration of the contract. If the idea of this appeals to you, shop around to make sure you get access to the services you actually use. Getting free access to Apple Music isn't that great a deal if you don't listen to music frequently.
International calls
If you have friends or family living overseas, or regularly have to make international calls for business, check to make sure international calls are included. Many plans offer unlimited national calls, but don't allow any international calls, while others include a fixed number of minutes for international calls to 35 countries, with a higher per-minute-rate for calls to other countries. It's important to know upfront if you will be billed differently for the international calls you intend to make.
Billing period
Billing period applies to post-paid plans, with prepaid plans having an access or validity period. For both this is usually 28 to 31 days but can be as low as 7 or 10 days and as high as a year for prepaid. With both prepaid and post-paid 30 or 31 days is preferable to 28 days, since the latter can see you paying for 13 cycles over a year instead of 12.
Plans from providers using the big networks
Telstra, Optus and Vodafone are the only three networks with their own infrastructure, the plans offered by all other operators use one of the three big networks for actual access. This does not make smaller operators inferior; by not having to maintain massive network infrastructure, many of their plans can be a lot more attractive, without limiting coverage or quality.
3G, 4G, or 5G?
New 5G networks are busy being rolled out across Australia, but at the same time the 3G networks are expected to shut down from 2024 onwards. This will in no way affect the coverage you currently enjoy, and many ways could see it improve. Although 5G will reach remote and rural areas later than larger towns and cities, the three big network operators are also upgrading the 4G network in many areas, resulting in more stable and faster connections. So, while you needn't worry about the disappearing 3G network affecting your ability to make and receive mobile calls, you should be looking at replacing your 3G mobile phone if you still happen to have one.