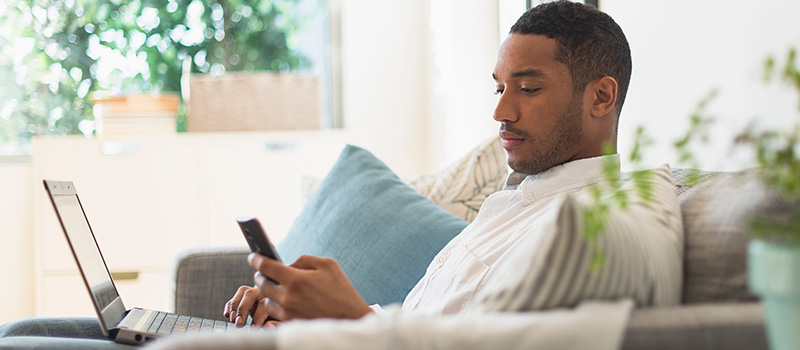 Choosing the right mobile plan
When you use your mobile every day you want to make sure you're paying for the right plan. There are a lot of plans out there, and a lot of information that can be overwhelming. If you're trying to decide on a new plan, here's a few things to consider.
How much data do you use?
On average, smartphone owners use around 9GB of data each month, but it can vary from person to person. You can actually look at your data usage using your Android or iPhone easily, as most phones track overall data usage. This should be available in the "Settings" section of your phone. Your provider will likely also have an app or website where you can track your data usage. 
You don't need to log your usage, but if you can gather a general range for your data it can help you determine a good plan. If you're within the average range, you likely won't want to be spending any extra money for unlimited data plans.
How much data do your apps use?
Each app uses a certain amount of data, with some using a lot more than others. Just like you can do with your overall data in "Settings", you should be able to see exactly how much data each app uses too. You can also look at average usage overall on apps like Facebook, Netflix, Spotify and see how you stack up. Take the time to also look at where you may be able to avoid excess use.
Calls and texts
Usage will also include texting and calling, which is usually a fairly straight forward part of any plan, but it's good to gauge how much texting or calling you do. Also ask if you are making international calls frequently, or if you will be travelling overseas much. International costs can stack up, so you want a plan that is flexible with this. 
The type of plan
A lot of people use contracts and package plans that have you paying your bill each month for an agreed amount of data/texts/calls. This works well for people who like to keep things consistent and is usually paired with a pay-off plan for new phones. But there are other options and while phones have changed over the years, prepaid options still exist. A prepaid plan, or a SIM only Postpaid plan may help you save on additional costs and you pay for what you intend on using. If you go over you can top up, but otherwise you can manage and control your usage effectively. Many people find this option helps them save money, and if you have paid off your phone or paid for it upfront this pairs well. 
Reconsidering your plan
It's only normal for you to want to reconsider an existing plan if there's the potential to save. It's easy to let the plan roll over, but if you recognise better deals the time spent switching over is worth it. 
So, if you find a plan you like with a different provider, how do you switch over? 
Switching over your plan
If you already have your phone and are looking to switch, you will need to purchase a new SIM card from the provider you're switching to. When signing up for your SIM you should be asked if you want to transfer your existing number over or use a new one. It's important not to cancel your current provider until your new one has been set up – otherwise you won't have access to a working phone during the wait!
You will then need to activate you SIM by transferring over the old number. Once that's done, you're good to go!
Ready to make the switch?
If you are looking to switch providers to save, Dodo is here to get you started! We offer flexible plans that let you control your usage. For a no-fuss switch, visit us at dodo.com/mobile or get in touch with our team on 13 Dodo today. 
Why choose Dodo?
Choose a plan that works with you and manage your account online. 
No lock in contracts1: We don't ask you to commit to 12-months, providing flexibility as your needs change.
Network guarantee: We are powered by the Optus 4G network, covering 98.5% of the population.
Manage your plan with My Dodo: My Dodo is an online portal that lets you view usage, bills and manage your services all in the one place.
Call us today 13 Dodo
Enquire with Dodo and set up your plan
If you are looking to switch providers, start a new plan or set up a new phone for a child or teenager, get started online with Dodo today. We will ensure the process is as seamless as possible. If you would like to know more about our plans, don't hesitate to reach out on 13 Dodo (13 36 36). 
Energy Information
Phone Plans
Internet

1 $10, $20, $25, $35 min cost
Got questions?
We are here to help answer any of your pressing questions. So, if you're stuck or confused, get in touch!