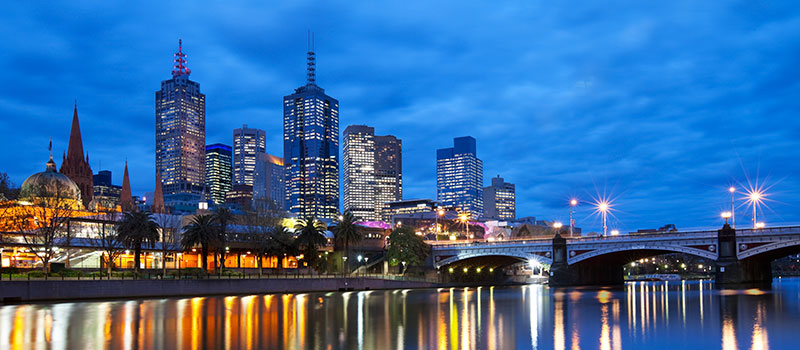 Electricity providers in Melbourne
Although Full Retail Competition (FRC) came to the Melbourne electricity market at the same time as the rest of Australia, Melburnians have had access to deregulated energy prices since 2009. Customers in Melbourne now has 25 electricity providers they can switch between to get a better deal, as long as they know of the other factors that can influence the difference in total cost of electricity between providers.  
Electricity distributors in Melbourne
Five distributors manage the electricity distribution network–the poles and cables that deliver electricity to your home–in Melbourne and the rest of Victoria. Though customers rarely interact directly with distributors, a significant portion of your electricity bill is influenced by the distributor responsible for the area you live in. And while you can easily switch providers, the only time you might change distributor would be by moving to a different address.
| Distributor | Areas Covered |
| --- | --- |
| Citipower | The inner suburbs and Melbourne city |
| Jemena | Northern and south-western suburbs |
| Powercor Australia | Western suburbs |
| AusNet Services | Outer northern and eastern suburbs |
| United Energy | Southern suburbs and the Mornington Peninsula |
AusNet and Powercor cover most of the suburbs of Melbourne, with the other distributors concentrated on a few suburbs surrounding Melbourne's CBD and into the Mornington Peninsula.
When looking at plans from different providers, the summary should include the name of the distributor for your address. The major costs associated with electricity distribution are covered by the Supply Charge or Service Fee and shown as cents/dollars per day. Your actual electricity usage does not influence this cost.
Different electricity distributors covering each area of Melbourne also explain why you can move to a new home, stay with the same electricity provider, but still have to switch to a different plan.
Making sense of peak and off-peak rates
Electricity plans that have different peak and off-peak rates in Melbourne are a little different to the rest of Australia. Specifically, they have both time of use tariffs and flexible pricing tariffs, though some distributors no longer offer time of use tariffs for new customers. Both tariffs depend on customers having a meter capable of remote readings, but with Victoria having replaced most electricity meters with smart meters, anyone should be able to sign up for a flexible pricing tariff.
Flexible pricing tariffs include a shoulder period, which the traditional time of use tariff did not have. The times for all periods don't change seasonally, though some providers may have a different rate per kWh during non-summer months.
Peak, shoulder, and off-peak times are the same for all distributors in Melbourne, though the months they consider summer and non-summer differ slightly. Always check with the provider if the rate per kWh changes during peak months, and what these months are.
Time of Use Tariffs
| | |
| --- | --- |
| Peak | 7am to 11pm1 |
| Off-Peak | 11pm to 7am |
1 Working weekdays only. Weekends–from 11pm on a Friday until 7am on a Monday–are treated as off-peak.
Flexible pricing tariffs
Peak
3pm to 9pm1
Shoulder
7am to 3pm, and again from 9pm to 10pm1
7am to 10pm

2

Off-Peak
10pm to 7am3
1 Working weekdays only.
2 Weekends only.
3 Weekdays and weekends.
These time slots can differ depending on distributors or retailers. 
The difference between a Victorian default offer and market contracts
The Victorian Default Offer (VDO) replaced standing offers in Victoria in 2019, with the Essential Services Commission (ESC) setting the price for electricity on VDOs, regardless of who your electricity provider is. If you previously had a standing offer, you would have automatically switched to a VDO. Unlike a market contract, the price of electricity on a VDO can only change every six months, though the benefit of a fixed price can mean the cost is slightly higher than on a market contract. Electricity retailers set their own prices on market contracts, with no limit on how often they can change this–though they are required to give you notice of any upcoming changes to their prices. Both VDOs and market contracts can be fixed-term or month-to-month. Any summary of market contracts must include the cost of a comparable VDO as a reference price.
Accessing electricity rebates and special discounts
The Victorian Government offers several electricity concessions to qualifying customers with the following cards:
Centrelink Health Care Card1
Centrelink Pensioner Concession Card
Veterans' Affairs Pensioner Concession Card
Veterans' Affairs Gold Card for all conditions
1 Not available with cards issued in the name of a child.
Concessions are available for
 Annual Electricity
Controlled Load Electricity
Electricity Transfer Fee Waiver
Excess Electricity/Gas
Life Support
Medical Cooling
Non-Mains Energy
Service to Property Charge
In order to receive any concessions you qualify for, you need to inform your electricity provider that you hold a qualifying card and provide proof. They will then advise you of the concessions available to you.
Melburnians not eligible for concessions could still benefit from the Victorian Energy Upgrades program. This program offers rebates and discounts on a wide variety of appliances, lighting technology, and other products that improve energy efficiency. Conditions apply to all offers, and while these are once-off discounts or rebates, they can lead to a significant reduction in your annual electricity costs by being more energy efficient.