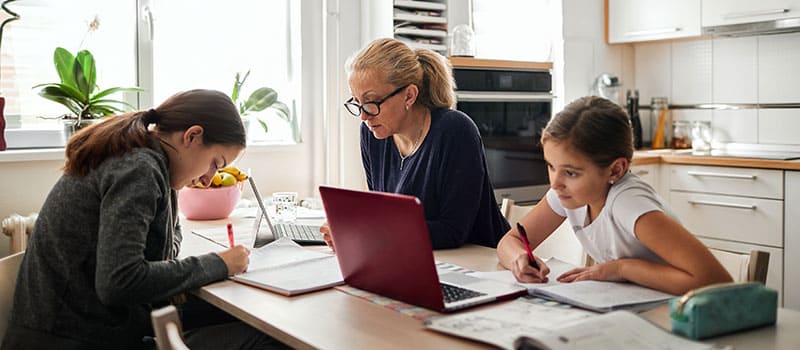 How to choose an nbn™ plan in Brisbane
If your home currently uses copper line technology for making and receiving phone calls and to connect to the internet using ADSL, the roll-out of the nbn affects you. Although you aren't automatically switched to the nbn and aren't forced to either, the copper line network and ADSL technology are being retired. Once your home is identified as being ready for the nbn, you have 18 months to either switch to the nbn or some other technology.
But with better speeds and more reliable connections, the nbn has a lot to offer, including a great choice of nbn providers throughout Brisbane. But the most important part of switching to the nbn is choosing the right plan.
nbn connection technology explained
The NBN Co has used a Multi Technology Mix (MTM) system throughout, meaning some premises will have a fixed line connection, and others either fixed wireless or satellite connections. This can influence the plans you sign up for, with higher speeds only supported by some nbn connection technologies. All connection technology support making and receiving phone calls, but some might require you to upgrade your handset first. Telephone calls are usually billed on a Pay As You Go basis, with bundles for unlimited calls available.

| nbn Technology | What It Is | Top Speed Supported |
| --- | --- | --- |
| Fibre to the Premises (FTTP) | Fibre optic cable connects your home directly to the nearest fibre node. A nbn connection box and power supply unit might be installed inside your home, separate to the modem or router. | All speed tiers up to a theoretical maximum speed of 1Gbps 1. |
| Fibre to the Node (FTTN) | Existing phone line connects your home to the nearest fibre node, and a fibre optic cable connects the node to the exchange. No nbn connection box is used; your modem connects directly to your existing phone socket. | Theoretical maximum download speed of up to 100Mbps. |
| Fibre to the Curb (FTTC) | Multiple homes connect to a Distribution Point Unit (DPU) using existing phone lines. The DPU is installed in the street and connects to the nearest node using fibre optic cables. Your modem will connect to a nbn connection box that will be installed inside your home. | All speed tiers up to a theoretical maximum speed of 500Mbps 1. |
| Fibre to the Building (FTTB) | Used in apartment buildings and multi-unit residential buildings. Existing technology connects each apartment or unit to a fibre node in the building's basement or communications room. Fibre optic cables connect the node to the exchange. | All speed tiers up to a theoretical maximum speed of 100Mbps. |
| Hybrid Fibre-Coaxial (HFC) | This uses your existing 'pay TV' or cable network connection to connect to the nearest fibre node, which connects to the exchange via fibre optic cables. An nbn connection box will also be installed in your home. | All speed tiers up to a theoretical maximum speed of 1Gbps1. |
| Fixed Wireless | In regional and some rural locations, distance makes traditional nbn installations impossible. A nbn connection box and antenna will be installed on your property, and this connects wirelessly to nbn transmission towers located up to 14 kilometres away. | All speed tiers up to a theoretical maximum speed of 75Mbps. |
| Sky Muster Satellite Service | Used to connect people living in remote areas. Your modem connects to a rooftop satellite dish that communicates with two orbiting satellites. Customers whose only option is satellite can keep their existing phone service for making and receiving phone calls. | A Fair Use Policy (FUP) applies to the satellite service, which can affect supported theoretical maximum speeds of up to 25Mbps. |
1 This maximum theoretical speed is not currently available on the nbn.
Use our nbn roll-out map to check whether your address is ready for connecting to the nbn and what technology they have installed. All areas of greater Adelaide have fixed line connections, meaning they would use one of the first five technologies listed above. The border for fixed line nbn technologies include:
Caboolture
Morayfield
Burpengary
Narangba
North Lakes and Redcliffe
Whiteside
Joyner
Eatons Hill
Ferny Hills and Ferny Grove
Upper Kendron
The Gap
Kenmore Hills
Pullenvale
Mount Crosby
Chuwar
North Ipswitch
Brassal
Walloon
Amberley
Yamanto
Ripley
Flinders View
Redbank Plains
Camira
Forestdale
Boronia Heights
New Beith
North MacLean
Munruben
Park Ridge South and Park Ridge
Crestmead
Waterford West and Waterford
Holmview
Beeleigh
Windaroo
Bannockburn
Yatala
Ormeau
Pimpama
Coomera and Upper Coomera
Paradise Point
Pacific Pines
Gaven
Nerang
Highland Park
Worongary
Tallai
Mudgeeraba
Reedy Creek
Tallebudgera
Currumbin Valley
Bilinga
Heads West
Bilambil Heights
Banora Point
Residents in areas using fixed line technology can apply to have their nbn connection technology changed using the NBN Co's Technology Choice Program. Applications are managed by the NBN Co, and there is a fee involved.
The different nbn speed tiers available
Dodo currently offer three speed tiers for the nbn:
1 Available only in certain areas with FTTP, FTTC and HFC type connections.
2 25Mbps typical evening speed.
3 50Mbps typical evening speed.
4 92Mbps typical evening speed.
How usage affects nbn plan choice
Knowing the nbn technology installed at your home is crucial to being able to choose the right plan. While all fixed line connections can support speeds of 100Mbps, as higher speed tiers become available, these depend on specific connection technology. And fixed wireless and satellite connections, while not used around greater Brisbane, are still limited to low- and mid-level plans.
The plan you choose is important to the size of your home, and your typical online activities. Smaller households with fewer than three people connecting to the internet, should find an entry-level plan quite adequate for most online activities, including streaming media in SD, and some online gaming.
If your home has more than three people living there, or if you want to stream in HD and higher resolutions, mid- to top-level plans would be more suitable. Speed has some influence on online gaming performance, but not as much as latency or ping, which is influenced by other factors.
Upgrading or downgrading to different plans is always possible, so you can easily switch if you find your current plan is not suitable.
Data allowance
Plans with a set data allowance are still available, but all Dodo plans offer unlimited data. This is great for streaming and online gaming purposes, since you never have to monitor your usage to avoid excess charges on your next bill.
Can I change my nbn plan in Brisbane?
If you find your current nbn plan offers too much–or too little–you will find that changing to a different plan with the same provider is often as simple as submitting an online plan change request. Your plan will be switched to the new plan after your next billing period and can even be done if you have signed on for a fixed-term contract. Downgrading while still on contract may incur penalties.
Typical evening speed (7pm-11pm). Speed may vary due to various factors and confirmed once connected. Fixed Wireless speeds are slower than fixed connections. See About nbn™ Speeds for more info.