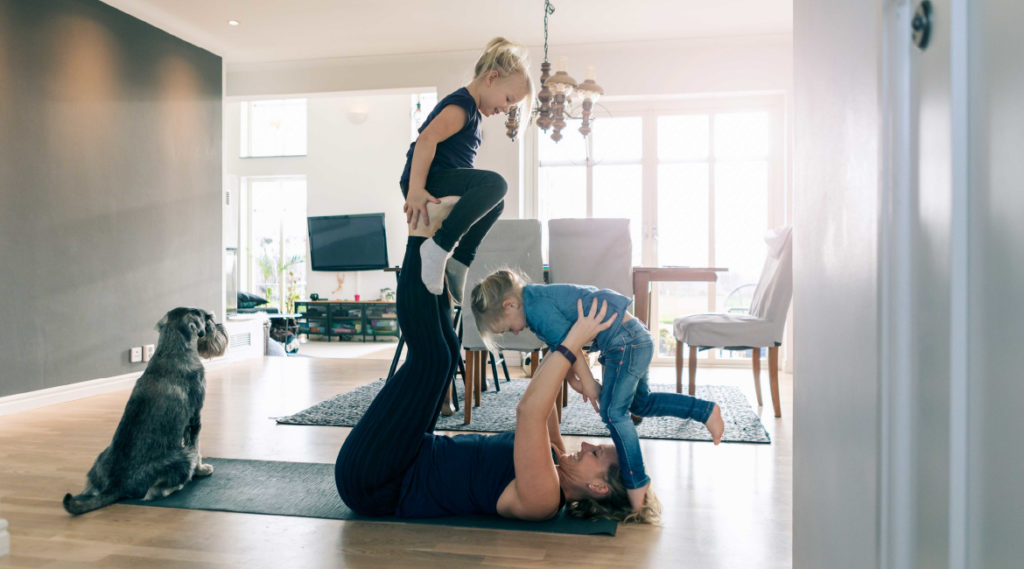 Finding the motivation to exercise is hard enough at the best of times. It probably goes without saying, but these are not the best of times. A global pandemic, worldwide gym closures and freezing winter rain have all made the road to ripped seem longer than ever. You'd be forgiven for hiding under a blanket with a packet of Tim Tams and waiting for things to improve.
Fortunately, there are plenty of winter-friendly, indoor workout options, and many of them are 100% free. You don't need memberships or fancy weight machines. Gyms and fitness centres around the world have started live-streaming movement classes, and there are some excellent resources on the App Store.
Here are some workout options to make winter more bearable.
Orange Theory
Orange Theory is an interval-based endurance class, and since COVID-19 started, they've been uploading 30-minute workout videos daily. You don't need any equipment to get started, but instructors do sometimes get creative (don't be surprised if you end up dead-lifting your golden retriever). Orange Theory has a free app, too, with health tips and a full workout library.
Zuu Training
Zuu is a HIIT-style fitness craze, designed by Australian workout guru, Nathan Helberg. It involves high-intensity body weight training, built around various 'animal moves' (hopping like a frog, crawling like a bear etc). You can get four online Zuu sessions for free, but regular Zuu Home memberships can be rather expensive. Luckily, brands like Virgin Active have uploaded quick Zuu classes on YouTube, to give you a taste.
Cole Chance Yoga
YouTube is actually a bit of a gold mine for free fitness. You can find Pilates courses, HIIT routines, and even training videos from Dua Lipa (all for free). There are also heaps of yoga channels on offer. Our pick is Cole Chance Yoga. It's good for beginners, but there are plenty of advanced videos, if you really want to stretch yourself (sorry). Just be aware, unless you have YouTube Premium, your Zen might get interrupted by the occasional ad for Bitcoin.
Barry's Bootcamp
Just because it's too cold to get yelled at in a park, doesn't mean you can't get yelled at in the comfort of your own home. Good old Barry's Bootcamp has released twice-daily indoor workout sessions on IGTV. They're called Barry's At Home. If you're not already a Barry's convert, stick to the 'Total Body' programs; they don't require any equipment. If you want to try the 'Bands' classes, you'll need Barry's Band Together Fit Kit.
Tone It Up
American fitness site Tone It Up has one of the best workout apps we've seen, and it's completely free for the next month (due to COVID). Videos range from 10-minute strength classes to 40-minute core workshops. If you missed Tone It Up's special offer, check out LifeTime or Aussie brand, Planet Fitness – they're both offering free public classes.
Seen on Screen
Maybe dance training is more your speed. In that case, head over to Seen on Screen. These guys have become famous over the last few years, teaching amateur dancers how to follow moves from Beyoncé, Rhianna and other famous limber people. Now they're doing free live-stream dance tutorials via Instagram and Zoom. Dance cardio studio, 305 Fitness, is doing the same thing on their YouTube channel.
The Body Coach TV
This one's for the kids, but adults can puff and wheeze along, too. Body Coach TV is run by Joe Wicks. It was already a popular online fitness channel before COVID, but now it's kind of exploded. Joe offers kid-friendly indoor workouts for all ages, including P.E. With Joe and Kids Workouts At Home. A good option if your little ones are climbing the walls while they're off school – literally or figuratively.
Nike Training Club
Far be it from Nike to miss an opportunity to innovate (and dominate) in the fitness space, and the brand's Nike Training Club app is one of the best in the business. As well as offering completely flexible training plans tailored to your body type, goals, available equipment and preferred methods of working out, the app also doles out rewards to keep you motivated, features guest and celebrity content and classes, and even has its own podcast. And if you're more of a runner than a gym junkie, the Nike Run Club app offers a gorgeous and intuitive interface for tracking your progress.
Now that you've worked out, you deserve a break. Check out our binge worth movie list here.