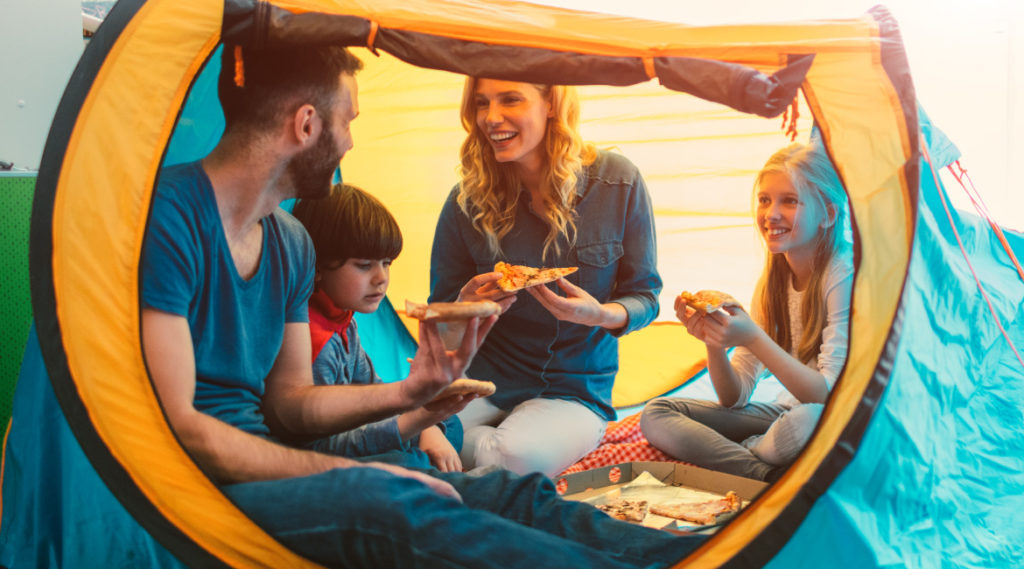 If there's one thing Australians (and Victorians in particular) have learned in 2020, it's how to be adaptable. And while COVID-19 might be relatively under control in Australia for now, different types of restrictions could be part of our lives for a little while yet.
So, why indoor camping? Good question. The way we see it, indoor camping is an all-family activity that requires very little money, and can be done no matter what is happening in the outside world. In many ways, it is the ultimate at-home family adventure, and it's immune to lockdowns, quarantines, 5km limits and curfews. It's even immune to the weather!
Throw technology into the mix, and the ante can be upped considerably. Here's how to create the ultimate indoor camping setup.
1. Start with your home base
First things first: pick your largest room and set up your tent in the middle of it. If you don't have a tent, similar results can be achieved by hanging various sheets over various bits of household furniture – a bedsheet over the kitchen table does the job nicely.
Arrange some cushions/pillows (or blow-up mattresses if you have them), into a formation that loosely resembles a bed, cover the whole thing in blankets/sleeping bags(or…Oodies), and you're all set. (Side note: did you know you can get bunk-bed camp beds now? How about that!) And make sure you can see the TV through the tent opening (you'll see why).
2. Set the scene
Make sure you're fully-stocked up with torches, and surround your tent with all of the plants you can find in the house – maybe even drag some dirt in if you feel like it. This is important if you want to achieve what we call "foresty feel".
If you have a smart speaker system, yell out: "Hey Alexa/Siri/Google, play nature sounds!" If you don't have a smart speaker system, just get up and do it yourself (remember doing things yourself?). On the TV, pop on some vintage David Attenborough on Netflix. Watch 'Alone' on Binge to help you feel like you're truly 'out there'. Maybe put it on mute though – otherwise, it feels a bit like having random people just sitting outside your tent trying to talk to you, which is a bit weird.
While you're using tech to help set the scene – we recommend bringing in books for you/the kids to read overnight. Classics like Enid Blyton's 'Famous Five' go a long way to helping recreate the outdoorsy/adventurous vibe. If you want a slightly more tech-savvy option, get your smart speaker/phone to play some kind of outdoorsy podcast/audiobook. Bliss.
3. Snack attack!
No camping trip would be complete without snacks. You could recreate the full camping experience by eating bad sandwiches, but we recommend loading up on marshmallows, jerky, chips and other such delicious items. And one of the best parts of camping indoors is that you can always order takeout if you feel like it. Of course, camping outdoors is always going to be our preferred camping experience – but you couldn't get Vietnamese soup or world-beating pizza delivered to the bush!
Kick your indoor camping experience up a notch with Dodo's range of energy and nbn plans.