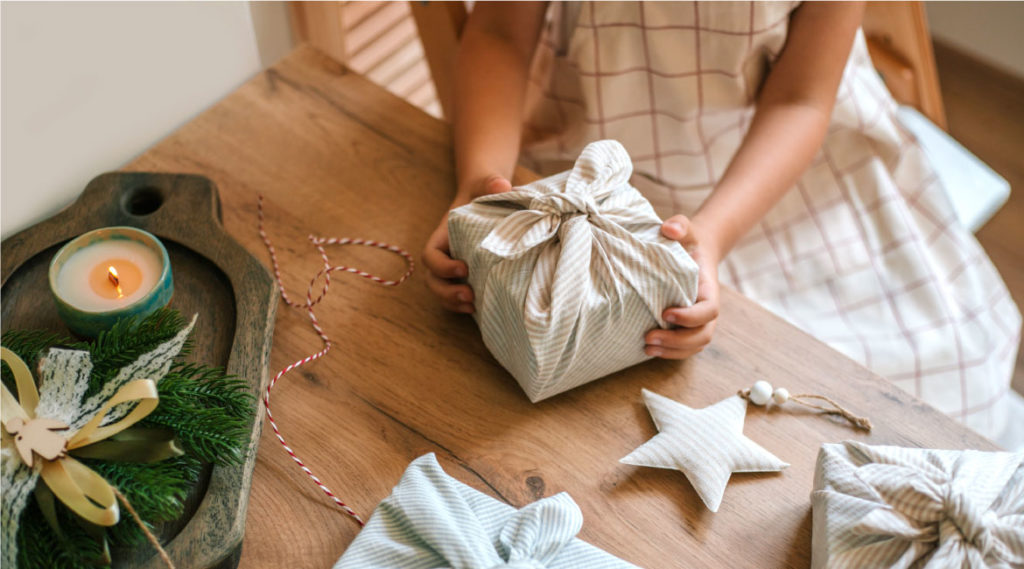 'Tis the season to start thinking about festive gifts.
But shopping looks a little different this year. After feeling the effects of a pandemic and lockdowns for almost two years, many of us are breaking with the tradition of buying joke presents – that will likely end up in landfill – and looking to more sustainable options that will actually do the planet some good.
To make your job a bit easier, we've researched some of the best brands doing wonderful things for the world – all you need to do is write the card.
For the outdoorsy type
With the warmer weather and loosened restrictions, everyone's hankering for more outdoor time. Protect your pal from the sun's harmful rays with a tin of Sunbutter sunscreen, made in a solar-powered factory in Victoria with certified sustainable ingredients. Maybe their peepers need some protection too? These sunnies from ELK are made from a plant-based plastic (and they're exceptionally stylish).
For mates who love spending multiple nights camping in the great outdoors, a solar-powered energy bank is a great way for them to keep their devices charged while they're off on grand adventures.
If your buddy's more of a greenthumb, a seed subscription makes a great gift (and your pal will literally be able to enjoy the fruits of labour!). Check out Easy Come Easy Grow or A Little Seedy for some sweet seed options.
Or why not go the whole hog and gift your mate an ENTIRE forest? A monthly subscription to ecologi plants 12 trees per month, which creates employment for local families, restores wildlife habitat, and reduces carbon pollution. And you can watch your forest grow when you log into your account. Win.
For the pal who needs a lil pampering
Let's face it – this is all of us. But for your friend or family member who really needs a little bit of indulgence this festive season, these items are sure to make them feel 110% better.
Scented candles really had a moment during 2020/2021 lockdowns, as more and more Australians attempted to turn their homes from houses into tranquil sanctuaries. Plus, they're pretty much the most energy-efficient gift ever. Check out Kenshi candles, founded by 17-year-old Liam Foldi, who work with members of Melbourne's Chin refugee community making beautiful hand-poured candles. Half of their profits go towards providing food for hungry Australians.
We're also huge fans of Soy and Seed, who pop a packet of seeds into every candle sold. So you'll have a gorgeous fragrant space instead – with beach- and mountain-inspired scents – and a garden full of beautiful blooms!
No pamper session is complete without a block of chocolate (or six). Bahen & Co Chocolate, based out of Margaret River in WA, ensure every ingredient they use can be traced and make sure their farmers are paid fairly. Chocolate on Purpose is 100% Indigenous owned AND carbon offset – and their chocolate is amazing.
For the coffee drinker
Many Australians really honed their coffee-making skills over lockdown. Was the java-lover in your life one of them? We suggest spoiling them with a coffee bean subscription, from an ethical provider like the Sustainable Coffee Company. Choose from a weekly, fortnightly or monthly delivery of sustainably sourced beans, packed in 100% compostable bags.
Not into coffee? Gift them with some tasty tea instead. The team at Love Tea – who have partnered with 1% for the Planet – have an amazing selection of herbal teas, while B Corp-certified Pukka are all about conservation through commerce.
Your mate will probably need some sort of earth-saving vessel in which to drink their beverage of choice too. Check out KeepCup, the take anywhere cup inspiring the world to reduce and reuse.
While we're on the topic of saving the world, did you know you can select a 10% or 100% GreenPower option if you've got your electricity account with us? Talk to us now about making the switch.