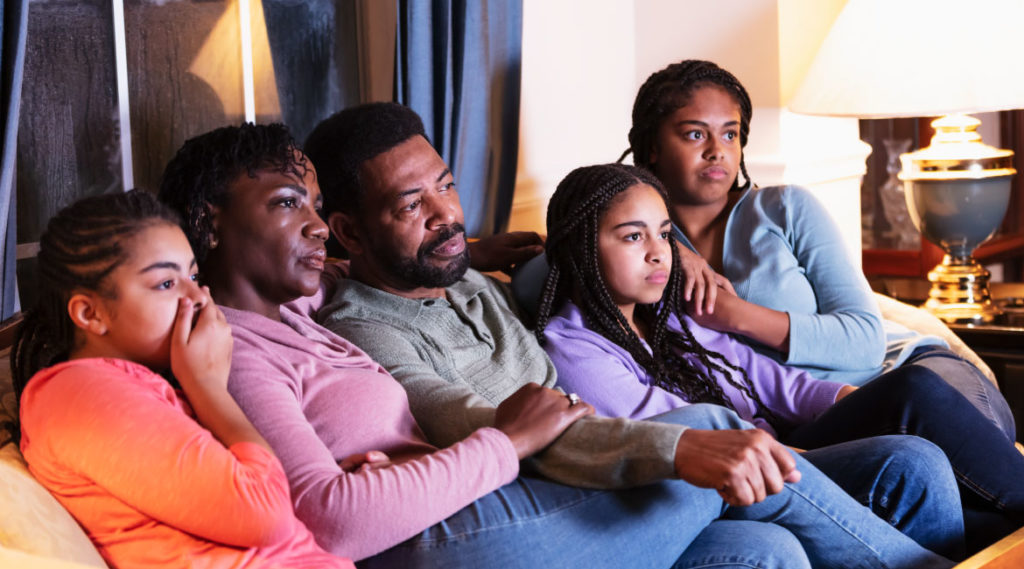 Feel that? That's your desire to leave the house disappearing as the temperature drops, the rain clouds start to gather and the wind begins to howl.
So cancel your plans, make yourself a mug of hot chocolate, pop some popcorn and settle in for our pick of the best movies and TV shows to get you through winter. Spoiler: almost all of these will have you thanking your lucky stars you only have to contend with an Aussie winter this year 😉
1. The Mountain Between Us
There's nothing worse than your plane crashing high in the mountains during stormy weather. No wait, there is. It's when your plane crashes in winter, and it's snowing, and it's very very cold. Starring Idris Elba, Kate Winslet, and a very cute Labrador, this flick will have you on the edge of your seat throughout (wrapped up in a blanket, of course).
2. The Revenant
Sticking with the trying-to-survive-against-all-odds theme, The Revenant sees a grizzly Leonardo DiCaprio take on an equally grizzled bear, and is left for dead by his team of fellow hunters. It's 1820, so Leo doesn't have a phone to call the crew back; instead, he has to fight to survive – both the wintry elements and the savage wildlife – to make his way back to civilisation.
3. The Thing
Picture this. You're a scientist, stationed on a base in Antarctica, and it's 1982. Maybe you're listening to Eye of the Tiger on your Walkman. Suddenly, a rabid dog races through the lab, which can only mean one thing. Yup, it's aliens. Directed by John Carpenter, settle in for a tense few hours with The Thing.
4. 30 Days of Night
Why are all wintry movies so scary? 30 Days of Night is set in a small Alaskan town that's so far north it spends a month in total darkness each year. And you know who loves the dark? VAMPIRES! OUT FOR BLOOD! Cue the screams and gore as the townsfolk fight to survive, and live to see another sunrise.
5. Wild
While not technically a winter flick, Wild is an epic – and true – story of survival, and a good reminder that it pays to be prepared. Following the death of her mother and a string of forays into drugs and one-night stands, Cheryl (played by Reece Witherspoon) sets out on a months-long hike along the Pacific Crest Trail. Beautifully shot and painfully honest, Wild will have you googling local hikes, breaking in your boots, and always – always – packing enough food.
6. March of the Penguins
What has wings but can't fly, has swimming skills to rival Ian Thorpe, and are some of the clumsiest creatures on the planet? Narrated by the honey-voiced Morgan Freeman, March of the Penguins is a 90-minute adventure/love story, following a waddle of emperor penguins across the Antarctic tundra as they search for a mate. You'll laugh, you'll cry, you'll definitely be thankful for your heater.
7. Mare of Easttown
EVERYONE is talking about this 7-part series right now, so if you haven't seen it, get onto it. Starring Kate Winslett as Mare, a harried small-town detective investigating a young girl's murder (and the disappearance of another), this show has more twists and turns than a rollercoaster at Dreamworld. Oh, and it's not really relevant to winter, it's just a really great show.
8. Northern Exposure
Need to binge on something quirky, kooky and just a little bit sweet? Say hello to Northern Exposure – aka 110 episodes of wholesome viewing. Follow the adventures (and misadventures) of Joel Fleishman, a New York doctor sent to the remote (and fictional) small town of Cicily, Alaska. There's romance, an eccentric local DJ, a loveable tradie, and a rogue moose. What's not to love?
9. The OC
When winter's really getting you down and you need some fluff to get you through, re-watch the adventures of the millionaire kids from The OC. While it hasn't aged all that well from its initial airing in 2003 (and Seth Cohen isn't as charmingly goofy as you might remember), the questionable fashion, beach frolics, great music and Sandy Cohen's eyebrows will keep you entertained until spring.
Ready to plug in and tune out? We hear ya. But first, make sure you're on the right home internet plan. Check out our range of plans here.