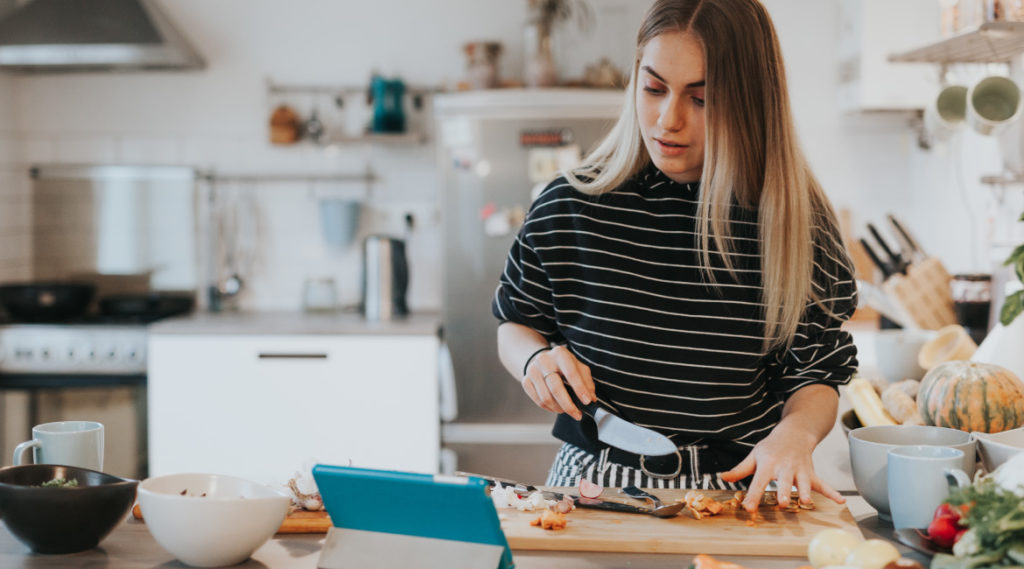 How did you spend 2020? If it was flinging flour around the kitchen, perfecting your julienning skills, and wondering what the heck a zoodle is, you've come to the right place.
Cooking, regardless of whether you're a kitchen whiz or prone to burn water, has been shown to have enormous benefits to our health and wellbeing. We're more likely to create healthier meals when we cook at home, as well as use up ingredients (so there's less waste and you'll save money). Reports have even shown that sharing our creations with family and friends is a great way to connect and show love (aww).
So if you're hungry to continue honing your cooking prowess, here are seven of our favourite apps to help:
This beautifully designed app is jam-packed with delicious, easy-to-follow recipes, instructional videos, and mouth-wateringly good articles on cooking and baking. The Kitchen Stories Recipes app has a range of handy filters, making it super simple to search for, say, a main meal with chicken and veggies that'll be ready in under half an hour. You can also publish your own recipes to share with the Kitchen Stories global community.
Vegan, or keen to start cooking more delish plant-based meals? Download Oh She Glows immediately. Chock-full (not chook-full) of yummy vegan recipes and stunning photography, the app has a great search function and a range of great filters, like 'quick and easy', 'freezer-friendly' and 'budget'. You can also favourite your top recipes, and add notes right into the app as you cook. Going meat free has never tasted so good!
The trickiest thing about having so many great recipes literally at our fingertips (thank you, world wide web) is not having access to international and hard-to-find ingredients. The Substitutions app allows you to search ingredients and offers up simple suggestions for replacements. It's also convenient if you're cooking for someone with allergies and intolerances.
It can be frustrating when you find a fab new recipe, only to discover the measurements are either imperial, old fashioned (what on earth's a dram?), or just plain vague (how much is a dollop, really?). This app recognises a range of different measurements and converts them into your preferred unit at the push of a button. The Useful Units Recipe Converter app also has a recipe scaling feature, so you can double, triple or quadruple your recipe based on how many hungry friends you're cooking for.
Every home cook should know where their produce comes from, and seafood can be a fishy business. While some wild-caught fish can be perfectly sustainable, others are caught using trawls, which can threaten marine species and damage fragile underwater habitats. The GoodFish app gives you transparency over which seafood you should choose next time you're at the market or at your local fish and chip shop.
Every good meal deserves a good drink, and sometimes that drink should be a cocktail. Cocktail Flow allows you to filter your search by what spirits you have in your liquor cabinet, and serves up a range of tasty bevvies. The step-by-step instructions will have you shaking, mixing and stirring like a pro.
When we eat fruits and veggies that are in season, they taste so much better than vegetables that have been flown in from overseas (not to mention better for the environment). in Season: eat better gives you all the info you need on what's in season (and when it will be), making grocery shopping cheaper and infinitely more delicious. The app is hemisphere aware too, so you can use it anywhere.
You've read our pick of cooking apps, check out these other apps to streamline your life.