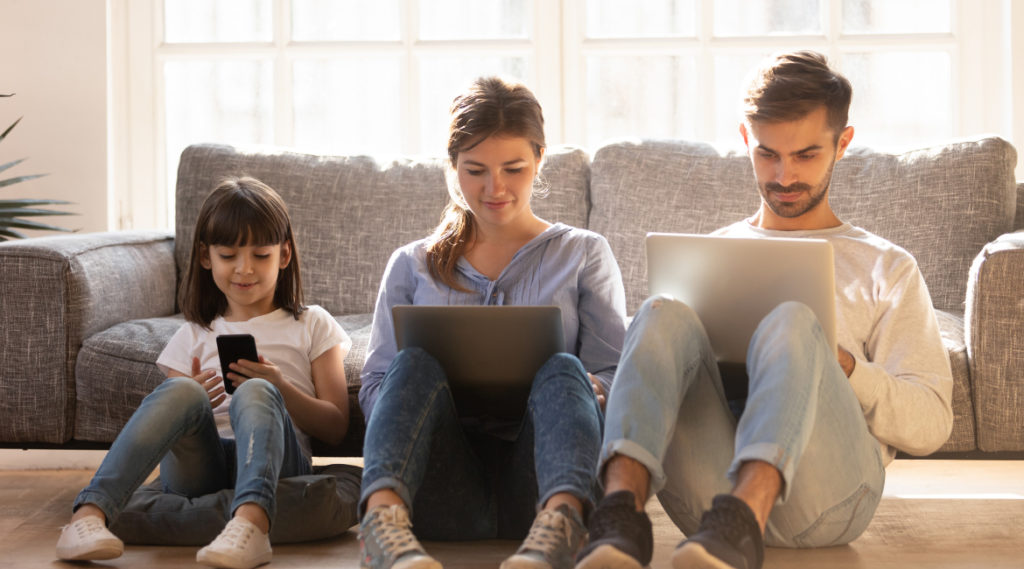 As you can imagine, traffic on the nbn™ network has increased a whole bunch since social distancing/stay-at-home measures have been in place to prevent the spread of you-know-who (ahem, COVID).
With us spending more time at home, we're all using the internet much more than we have before. Just think, last year:
Were you working from home as much as you are now? No!
Was all your family at home during the day using the internet? Absolutely not!
Would you have been streaming Netflix as much as you do now? Maybe actually, but probably not!
The point is: it's important to review your nbn plan to make sure it's still the right plan for you.
How? We're glad you asked.
How many people do you live with?
The average Australian household in 2020 has 6.6 internet connected devices, and this number is only set to increase in the years to come. With the average home having four people living in it, you're bound to experience slower internet speeds with your entire household using the same Wi-Fi connection at the same time.
Do you have enough data now that you are working or studying from home?
The amount of data you need depends on two factors:
How many people/devices are connected to the internet
What you use the internet for
Your data might have been enough for you the occasional streaming of a movie or loitering on your high-school crush's Facebook/Instagram profile, but now you're all at home doing your digital things, you might need to upgrade.
Are you on the right speed?
The more bandwidth you have, the faster the connection, and the faster it will then be to browse, stream and download.
nbn plans have different speeds, all of which offer different experiences.
Which one are you signed up for? And is it enough for you? Let's have a looksee:
This speed is best for a heavy internet user household and serves 6-9 devices well. This means you can download that dreaded large data file from work, binge the latest season of the Kardashians while your kids can TikTok their friends all day long. Everyone can be online on different devices at the same time, which keeps everyone happy. This plan supports 4K video steaming. So all your streaming services like Hayu, Stan and Netflix will stream well with this one. TV Marathon anyone?
*82Mbps average sampled evening speed1

This plan is our most popular plan and is more than enough to meet the needs of most households and is best for use of 4-6 devices at the same time. This plan is perfect for your average family who needs a quality nbn connection without having to break the bank each month. You'll be able to do your work, stream what you want, while the kids are busy playing Minecraft.
*41Mbps average sampled evening speed1

This is our cheapest plan and is great for light users of the internet. It's ideal for smaller households using 2-4 devices at the same time. Basic internet activities like browsing, checking emails and posting on Facebook and Instagram are covered with this one. This speed won't be the best one for streaming Netflix while your family are all using the internet but will do the job in terms of a basic nbn connection.
*20Mbps average sampled evening speed1
So, thinking you might need to upgrade?
Cool! We can help, and your speed upgrade will be automatic.
All you need to do is ring us on 13 36 36 for a chat, and we'll do the rest.
*Average sampled evening speeds (7-11pm). 1Based on the ACCC Measuring Broadband Australia Report (May 2020) measured across the ACCC's sampled connections between 7pm-11pm in February 2020. FTTN/FTTB/FTTC/Fixed Wireless speeds will be confirmed once connected. Fixed Wireless speeds are slower than fixed connections and may be impacted by cell congestion.