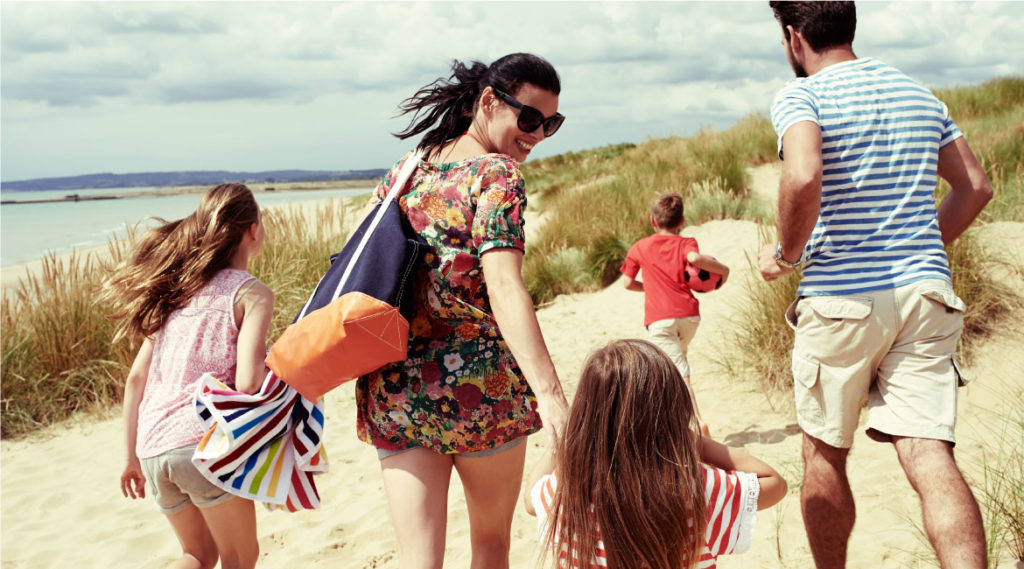 Smell that? It's the aroma of barbecues, hot asphalt and sunscreen. And it means summer is finally here.
The last (almost) two years have really been a time, and we're all in need of a well-deserved break this summer, and we want you to get the most out of it. Here are a few of our favourite apps to help you plan glorious adventures in the great outdoors or simply relax at home.
Heading out and about? Download these.
BOM Weather app
Nothing dampens a good adventure like pouring rain (or searing heat). Prepare yourself for all types of weather with BOM's awesome weather app. It gives you the obvious, like the temperature and a 7-day outlook, a UV index and when to wear sun protection, and a rain radar to let you know how much time you've got to pack up your picnic.
SkyView
Fancy a fun night-time adventure? SkyView is like having a teeny tiny astronomer in your pocket, giving you all the info you need to stargaze with ease. Just point your phone skywards and identify stars, constellations and satellites as they pass overhead.
AllTrails
After so much time spent indoors, it's definitely time to give the pins a stretch on a walk. Whether it's a multi-day bushwalk, a stroll in your local area, a trail run or dog-friendly hike, the AllTrails app provides a bunch of great options for every walking ability.
Camps Australia Wide
There's not much better than packing up the car and hitting the road for a camping adventure. The Camps Australia Wide app is packed with over 13,000 budget-friendly and free campsites and holiday parks around the country, and includes detailed info on amenities, gas bottle refill points, servos and a bunch more.
OpenTable
Prefer to stay a little closer to home this summer? Maybe indulge in something delicious that you haven't cooked yourself? OpenTable allows you to book a table in thousands of restaurants, bars and pubs across the country, so you can avoid that awkward feeling of rocking up to a restaurant, hungry and thirsty, only to be turned away because they're fully booked.
Staying home for some R&R? You need these.
Loóna
If your main goal over the summer break is to relax your mind, exhale deeply and decompress, loóna might just be the app for you. Using playlists, immersive stories and 'sleepscapes', loóna gives you the tools to help you switch off from a busy/stressful day/year and prepares you for a good night's sleep.
World of Peppa Pig
Don't have kids? You can skip this one. But for the parents out there, the World of Peppa Pig app will be your saving grace over the festive break, providing you with a bit of quiet time while your kids dive into the wonderful world of Peppa Pig. There are educational games, videos and activities, in an ad-free and safe environment.
Headway Self-Growth Challenge
If you're up for something more productive these holidays, why not commit to expanding your mind with a self-growth challenge from the legends at Headway? After committing to a goal or two you'd like to achieve, like being more productive at work or strengthening connections with your family, Headway dishes up 15-minute summaries of some of the best/most popular/inspiring/educational/unputdownable books on the planet to help you kick said goals.
Centr
Just because you don't want to leave the house doesn't mean you want to turn into a potato. For those of you keen to stretch your muscles, build strength, and generally move what your mumma gave you, Centr by Chris Hemsworth (yes, that Chris Hemsworth) will be your app download of the summer. Featuring a bunch of fitness programs from world-class trainers, healthy meal plans (that actually taste delicious) and a range of guided meditations, Centr will pretty much guarantee you have a happy new year.
Whether you're spending the summer at home under the AC or heading out and about, make sure you're on the right mobile plan. Check out our range.