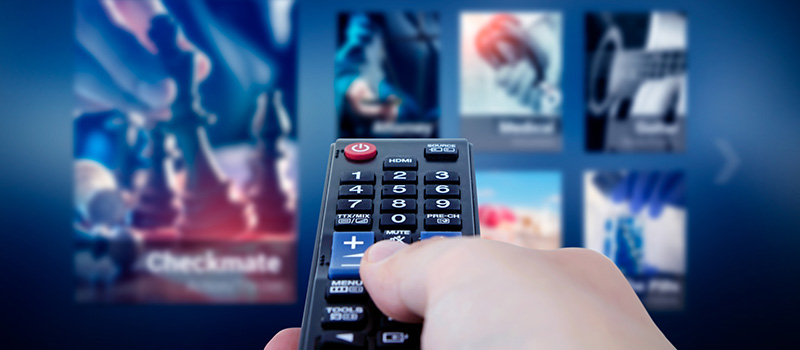 nbn™ Broadband Bundles
Choosing a fast nbn plan with unlimited data gives you access to a whole new world of entertainment, with faster nbn connections more suitable to HD and 4K video streaming, smoother online gaming, and uninterrupted music. But while gaming and music are great on almost any device, family movie night needs a nice big screen with a set-top box to make browsing the latest movies streaming on Netflix, Amazon Prime Video, or Stan so much more convenient.
And with a Dodo nbn broadband bundle, you won't need to sign up for a separate subscription to get your own set-top box with apps for leading streaming services and loads
Why Choose a Broadband TV Bundle?
In order to enjoy streaming services such as Netflix, Stan, and Kayo on a television, you either need an internet connected Smart TV, or a set-top box or dongle such as a Roku or Chromecast. But if you want the ability to pause, rewind, catch-up, and even record your favourite TV shows to watch when it suits you, you're going to need a more specialised device like the Fetch Mini or Fetch Mighty.
Without a Dodo nbn broadband bundle, that also means another subscription and bill to keep track of each month, but with Dodo's nbn TV bundle you can get the Fetch Mini, one premium channel pack, and unlimited data with a theoretical maximum speed of 50/20 for as little as $100 per month on a 12-month contract. And there's no activation fee to pay before you're able to start bingeing your favourite shows.
Fetch Mini Bundle
Fetch Mighty Bundle
nbn501
nbn1002
nbn501
nbn1002
Download - 50 Mbps
Download - 100 Mbps
Download- 50 Mbps
Download - 100 Mbps
Upload - 20 Mbps
Upload - 40 Mbps
Upload - 20 Mbps
Upload - 40 Mbps
$100/month for 12 months
$110/ month for 12 months
$110/ month for 12 months
$120/ month for 12 months
Choose from Vibe3, Variety4, Knowledge5 or Kids6 channel pack.
1 50Mbps typical evening speed. Available on FTTP, FTTC, FTTN, FTTB, and HFC only.
2 92Mbps typical evening speed. Available on FTTP, FTTC, and HFC only.
3 Channels included in the Vibe pack are E!, Comedy Central, Spike, ESPN, ESPN2, EDGEsport, MTV, MTV Music, MTV Dance, Fashion TV, and eGG Network (subject to change)
4 Channels included in the Variety pack are BBC First, BBC UKTV, MTV Classic, Universal TV, TLC, Stingray CMusic, Oxygen, Discovery Turbo, and Investigation Discovery (subject to change)
5 Channels included in the Knowledge pack are National Geographic, Discovery Channel, National Geographic Wild, BBC Earth, BBC BRIT, HGTV, Food Network, Travel Channel, CNN, CNBC, BBC World News, Al Jazeera, Euronews, Channel NewsAsia, France 24, NDTV 24x7, Bloomberg Television, CGTN, MSNBC, and Animal Planet (subject to change)
6 Channels included in the Kids pack are Nickelodeon, Nick Jr., Cartoon Network, Boomerang, CBeebies, BabyTV, and ZooMoo (subject to change)
While our nbn Fetch TV bundle comes with one channel pack of your choice included, you can also add other Premium, Special Interest, or World channel packs from as little as $6 per month. Not forgetting that Fetch TV also gives you access to Australia's free-to-air channels, along with the Fetch TV Store where you can buy digital copies of your favourite TV shows and movies to watch whenever you want. And you aren't limited to only watching all the shows Fetch TV gives you access to using the Fetch Mini or Fetch Mighty and connected TV; with an Android and iOS app installed on your favourite mobile device, you can watch whatever you want, wherever you are. As long as you have an internet connection.
nbn Phone Bundles
All of our nbn plans come with landline service included, but with the following pay as you go call rates:
Call Type
Cost
Standard Local Calls
25c Untimed
National Calls
29c per minute
39c flagfall
Calls to Mobiles (Australia Only)
39c per minute
39c flagfall
13/1300 Calls
44c Untimed
$1.95 Value Calls
National Calls to Aust. Landlines Up to 2 Hours
Calls to Aust. Mobiles Up to 10 Minutes
International Calls* Up to 30 Minutes
International Calls
Rates vary
Call packs offering unlimited local calls and bundled minutes for international calls are available, with Dodo's fair usage policy applying to included calls. The packs can be combined, or used on their own, and you are not bound by a contract when buying any packs: you can cancel at any time. Calls to 13/1300 numbers, premium numbers, and other special services are not included and are charged as per the normal rate for these types of calls. Call packs offered by Dodo are:
Unlimited Call Pack
Local, National & Mobile numbers
$10/month
International Landline Pack
2000 minutes to landline phones to top 25 countries7
$15/month
International Landline & Mobile Pack
2000 minutes to landline and Mobile phones in top 25 countries7

$20/month
7 Top 25 countries are Canada, China, Croatia, France, Germany, Greece, Hong Kong, India, Ireland, Italy, Japan, Malaysia, Netherlands, New Zealand, Poland, Singapore, South Africa, South Korea, Spain, Sweden, Switzerland, Taiwan, Turkey, UK, and the USA.
The nbn landline service with relevant call packs bundled on is a great way to tame your spend on your mobile phone each month, especially if you're still on prepaid. And including Fetch TV with your nbn broadband plan will give you access to so much more entertainment without you having to worry about a separate bill to keep track of each month.
Typical evening speed (7pm-11pm) sampled 1-14 March 2021. Speed may vary due to various factors and confirmed once connected. Fixed Wireless speeds are slower than fixed connections. See About nbn™ Speeds for more info.