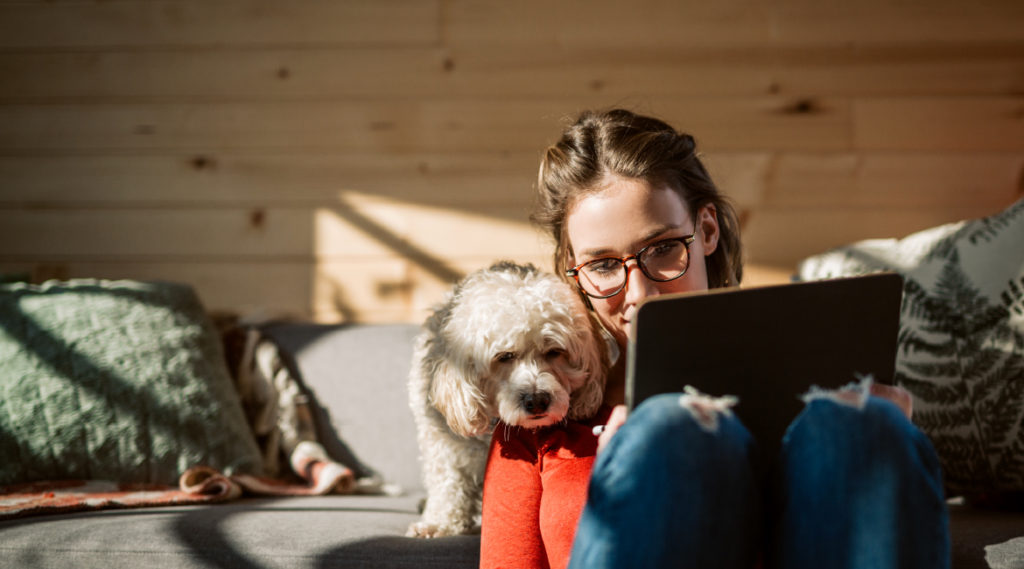 Becoming a pet owner is a big deal. You're now responsible for a furry little friend. You've got to feed, water, nurture and pat (a lot of patting!) your new best mate.
It's fun, but it can also be kind of stressful. In good news for modern cat/dog/insert-pet-here owners, the technological age has made keeping your furry friends alive even easier.
A fitbit for dogs and cats
Introducing FitBark. This GPS monitor clips onto your dog's collar and will track distance walked, sleep patterns and even calories burned (just in case your doggo needs to shed a few pounds). It's even smartphone synced, making it easy to share medical insights at vet check-ups. If you're a cat owner, Tailio is a monitor that sits underneath the litterbox and it tracks weight, eating and litter box habits.
Smart feeders
There's a huge range of smart feeders on the market now helping you schedule feedings and even feed your pet remotely. Some have cameras, some don't. Some let you know if there has been any weird activity, some don't. The point is that there's a fair bit of choice out there, so you'll certainly be able to find one that works for you.
Microchipped pet doors
Yep, you can now prevent unwanted intruders by installing a doggy door that will only let your dog in or out. SureFlap's Microchip Front Door will only open when it reads your pet's microchip, it will send you notifications when your pet leaves or enters AND you can control the door remotely. The power!
Tracking collars
Think back to the last time you lost a pet. You ran around the neighbourhood calling their name and slapping 'Missing' posters all over town, right? If you just used a tracking collar, like the LINK AKC Smart collar, you'd save yourself a whole lot of stress. These collars not only use GPS to track your best friend but also include a light so you can see your pet in the dark.
Pet monitors
A baby monitor, but make it pet! Devices like PetChatz help you keep an eye on your furry friend remotely. PetChatz is pretty supreme, featuring a HD camera, treat release and motion detector. Not to mention your pet is actually able to call you. That's right! This is next level pet comms.
Puzzles for pets
There's nothing more dangerous than a bored dog in a big house. To ensure you don't come home to a mess, The Clever Pet Hub is an interactive pet puzzle guaranteed to keep your dog occupied. It lights up, it gets harder as your doggo figures out the basics, and you can schedule edible rewards. Plus, it's controlled via your smartphone.
Lasers and fetch
Cats love lasers. It's a fact. And now you can buy battery-operated, standalone, rotating lasers to keep your feline friend on its feet all day. Much like cats love lasers, dogs love playing fetch. iFetch is an award-winning automatic ball launcher that saves your arms the hassle of hours of throwing, giving your arm more energy for other things. Like…making lasagne?
If your pupper or kitty is your best friend, our next blog has some great tips for making them feel their comfiest when moving home.