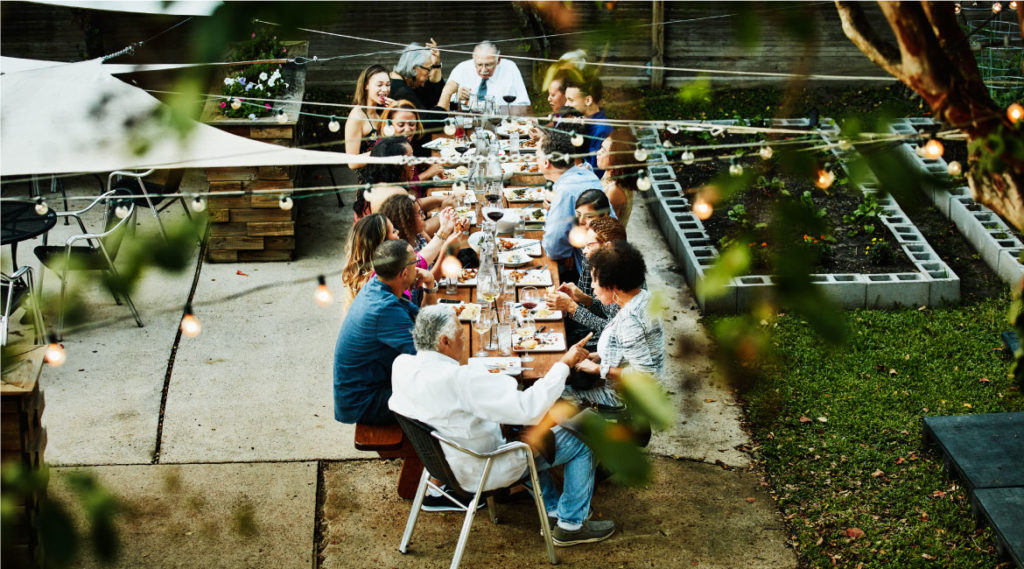 As we head into the warmer months, it's time to gaze into your backyard, imagine it filled with family and/or friends gathered around the barbie, and realise you've got a bit to do to get it summer-ready. Oh, and you want to make your garden as energy-efficient as possible.
Well, we're here to help. Here's how to make your outdoor entertaining area more energy efficient this summer.
Your garden
A great way to keep your garden cool in summer is to utilise nature's shade: plant some trees. Native trees and shrubs are more water-efficient and low maintenance than introduced species, and they'll attract bees, birds, and butterflies (which might not reduce your energy bills but will increase your love of nature levels).
A sweeping expanse of lawn, or any kind of lawn, is expensive to maintain and uses a lot of water to keep it looking lush. Unless you absolutely must have a huge patch of grass in your garden, consider replacing some of your lawn with garden beds filled with drought-tolerant plants, fruit trees or veggies. Or do away with your grass altogether and roll out a square of lifelike artificial lawn. You won't need to mow it either.
Your tools
Unless you live on a huge block of land or have a massive hedge, it's unlikely you'll need a whole lot of power tools to clean up your yard. Rather than spending all your hard-earned dosh on things like leaf blowers, lawnmowers and whippersnippers, use hand tools instead. You'll be creating less pollution, you'll get some physical activity, and your neighbours will appreciate the peace and quiet.
Your barbecue
Nothing says summer like a backyard barbie with your mates. But if you love grilling up some sausages on a summer's day, make sure you're using the right barbecue. Gas emits less air pollution than charcoal barbies, but there are some great solar models on the market that are worth investigating.
It's also important to choose a BBQ that's the right size for you and your family; heating up a large cooking space will use far more energy (perhaps unnecessarily) than a smaller unit. And regardless of what you're cooking, it's almost always best to cook with the lid down. You'll use less energy and retain good cooking heat.
Your lighting
After the sun sets, a little atmospheric lighting in your garden does wonders for those chill vibes and moody Insta shots. So, skip the harsh outdoor light and go for solar-powered fairy lights (praise thee, power of the sun) or solar-powered, motion-sensor spotlights dotted through your backyard. Great for the environment, great for the ambience, great for your energy bill.
Your pool
If you've got a pool, first off, can we be friends? Secondly, make sure you're using an energy-efficient pool pump. While it might cost a little more upfront, using a pump with a high-star energy rating will save you big bucks on your electricity bill. Remember to keep your pool clean (that includes cleaning the filter regularly) and invest in a good quality cover to avoid evaporation on hot days.
Looking for another great way to get more energy efficient? Apply GreenPower to your Dodo household energy bill and we'll source electricity equal to 10% or 100% of your household energy consumption from renewable sources. Nice!