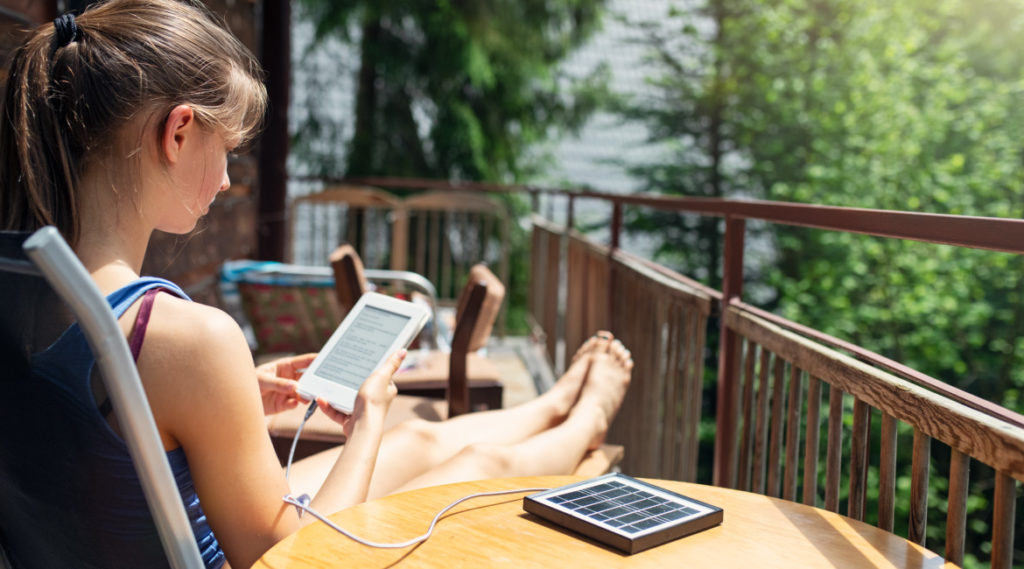 It's 2021 and we're all looking for ways to slip into a smaller carbon footprint. But we still also really love gadgets, and things that make our lives heaps easier.
Now, we know that not everyone can afford to mount solar panels to the roof of their house, but swapping out some of your appliances for solar alternatives is a cheap (and effective) place to start your solar-powered journey. Plus, reducing your footprint could also end up saving you money on energy bills. Winner, winner solar-powered BBQ for dinner.
So say 'see ya later' to fossil fuels and harness the power of the sun with this roundup of some of the best solar gadgets for around the home and garden. Solar-powered garden robot? Don't mind if we do!
1. Solar speaker
Hello solar powered wireless Bluetooth speakers – you sound almost too handy to be true. Don't expect the same sound quality as a professional speaker setup, but if you're looking for an eco-friendly music option then this is it. You can even be charging your speaker while you're having a day by the pool – talk about multitasking.
2. Solar keyboard
That's right – you can now get keyboards for your computer that use either the sun or artificial light to charge up and they will stay charged for UP TO THREE MONTHS. No desktop cords, no computer chaos.
3. Solar BBQ
In excellent news for snag enthusiasts everywhere, you can now get your hands on safe, solar-powered outdoor cookers. Some of these cookers not only BBQ but they bake, stew, hell – some can even slow cook. Using a solar bag, they work by reflecting sunlight to heat the food. Genius.
4. Solar window charger
Okay, so this super handy gadget doesn't even need to be outside to charge up. Just stick it by a window and it'll power away. Chargers like this one can be used to fuel up your phone, tablet or any other USB electronics.
5. Solar weeding robot
Yep – you read that right. A weeding robot. Created by the inventor of Roomba, the Tertill (you know, like turtle) is like a vacuum cleaner for your garden. Chuck it in the backyard and let it handle the weeds. You'll never have to get your hands dirty again.
6. Solar window blinds
These blinds are designed to self-adjust to the movement of the sun, so they utilise as much energy as possible. How's that for smart technology? They can also generate up to 150 watts of power per square metre, which equals a hell of a lot of lightbulbs.
7. Solar laptop bag
You will never need to find a powerpoint again with these solar-powered laptop bags. Most of them can charge all your devices – computer, tablet, phone – on the go at once. Making it ridiculously efficient and just generally very, very convenient.
Looking for other environmentally friendly tips? Check out our other blog here, or our energy plans here.